Formación
Automatic Systems organiza periódicamente sesiones de formación para cada una de sus gamas de productos.
Nuestros formadores son técnicos cualificados que cuentan con una gran experiencia en Automatic Systems. Estarán encantados de transmitirle sus competencias y experiencia.
---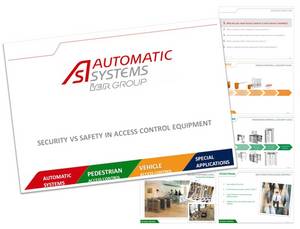 Nuestras sesiones de formación cubren:
1. Funcionamiento del producto
2. Características técnicas
3. Límites de utilización
4. Accesorios y opciones
5. Demostraciones y pruebas
6. Plan de mantenimiento y resolución de las averías más frecuentes
7. Presentación de la extranet Partnerweb y de todo el contenido disponible
Participe en nuestras sesiones de formación y únase al club de las personas certificadas por Automatic Systems.
---
[english version]
In view of the strong demand for training and in order to maintain a high level of quality, the organisation of training evolves in 2020. This year Automatic Systems is organizing free sessions planned in advance. Here are the practical details.
Grouped into 5 themes (Vehicle | Pedestrian | New products | Road Blockers & Bollards | Booths)
Duration: between 2 and 3 days depending on the themes. The last day of training will be practical for field technicians.
4 sessions per year (2 FR and 2 EN): 20 trainings organised in total.
The session is confirmed 2 weeks before the date if the participation is of minimum 4 persons and we accept a maximum of 12 persons.
Registration by email on training.asgroup@automatic-systems.com.
Registration fees will be charged for any absence or cancellation within 48 hours before the session.
Any other specific training on request on site or on our premises will be charged 1000€/day + expenses.
Here is the calendar for trainings Avenue Lavoisier 17, 1300 Wavre – Belgique.
According to the registrations, it is possible we relocate in our factory in France : 22, rue du 8 Mai 1945, 95340 Persan – France
| | |
| --- | --- |
| THEME | DATE |
| Vehicle | S8: 18-20 February |
| Pedestrian | S12: 17-19 March |
| New products | S18: 28-30 April |
| VSB: RB-RSB | S20: 14-15 May |
| HSP: booths | S22: 28-29 May |
| Vehicle | S26: 23-25 June |
| Pedestrian | S38: 15-17 September |
| New products | S42: 13-15 October |
| VSB: RB-RSB | S44: 29-30 October |
| HSP : booths | S46: 12-13 November |
We stay at your service for any further information request. Contact: training.asgroup@automatic-systems.com
---
[version Française]
Vu la forte demande de formations et dans le but de garder un haut niveau de qualité, l'organisation des formations évolue en 2020. Automatic Systems organise cette année des sessions gratuites prévues à l'avance dont voici les détails pratiques.
Regroupement en 5 thèmes (Véhicule | Piéton | Nouveautés | Road Blockers & Bollards | Sas blindés)
Durée : entre 2 et 3 jours selon les thèmes. La dernière journée de formation sera orientée pratique pour les techniciens de terrain.
4 sessions par an (2 FR et 2 EN) : 20 trainings organisés au total.
La session est confirmée 2 semaines avant la date si la participation est de minimum 4 personnes et on accepte un maximum de 12 personnes.
Inscription par email sur training.asgroup@automatic-systems.com.
Des frais d'inscription seront facturés pour toute absence ou annulation dans les 48h avant la session.
Toute autre formation spécifique à la demande sur site ou dans nos locaux sera facturée 1000€/jour + frais.
Voici le calendrier pour des formations Avenue Lavoisier 17, 1300 Wavre – Belgique.
Selon les inscriptions, il est possible que nous nous déplacions dans notre usine de France : 22, rue du 8 Mai 1945, 95340 Persan – France
| | |
| --- | --- |
| THEME | DATE |
| Véhicules | S6: 4-6 Février |
| Piéton | S10: 3-5 Mars |
| Nouveautés | S14: 31 Mars-2 Avril |
| RB-RSB | S20: 12-13 Mai |
| Sas de sécurité | S22: 26-27 Mai |
| Véhicules | S24: 9-11 Juin |
| Piéton | S36: 2-4 Septembre |
| Nouveautés | S40: 29 Septembre-1 Octobre |
| RB-RSB | S44: 27-28 Octobre |
| Sas de sécurité | S46: 9-10 Novembre |
Nous restons à votre disposition pour de plus amples informations. contact : training.asgroup@automatic-systems.com
---