Training
Automatic Systems regularly organises training courses for each of its product ranges.
Our trainers are qualified engineers with a long experience at Automatic Systems. They will be pleased to pass on their competences and expertise to you.
---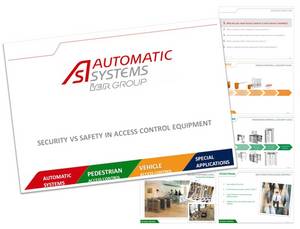 Our trainings cover:
1. Product functioning
2. Technical features
3. Limits of use
4. Accessories and options
5. Demonstrations and tests
6. Maintenance plan and resolutions of common failures
7. Presentation of Partnerweb extranet and all the contents available
Join our trainings and be part of Automatic Systems club of graduates.
---
In view of the strong demand for training and in order to maintain a high level of quality, the organisation of training evolves in 2020. This year Automatic Systems is organizing free sessions planned in advance. Here are the practical details.
Grouped into 5 themes (Vehicle | Pedestrian | New products | Road Blockers & Bollards | Booths)
Duration: between 2 and 3 days depending on the themes. The last day of training will be practical for field technicians.
4 sessions per year (2 FR and 2 EN): 20 trainings organised in total.
The session is confirmed 2 weeks before the date if the participation is of minimum 4 persons and we accept a maximum of 12 persons.
Registration by email on training.asgroup@automatic-systems.com.
Registration fees will be charged for any absence or cancellation within 48 hours before the session.
Any other specific training on request on site or on our premises will be charged 1000€/day + expenses.
Here is the calendar for trainings Avenue Lavoisier 17, 1300 Wavre – Belgique.
According to the registrations, it is possible we relocate in our factory in France : 22, rue du 8 Mai 1945, 95340 Persan – France
| | | |
| --- | --- | --- |
| THEME | DATE | STATUS |
| Vehicle | S8: 18-20 February | Full – registration closed |
| Pedestrian | S12: 17-19 March | |
| New products | S18: 28-30 April | |
| VSB: RB-RSB | S20: 14-15 May | |
| HSP: booths | S22: 28-29 May | |
| Vehicle | S26: 23-25 June | |
| Pedestrian | S38: 15-17 September | |
| New products | S42: 13-15 October | |
| VSB: RB-RSB | S44: 29-30 October | |
| HSP : booths | S46: 12-13 November | |
We stay at your service for any further information request. Contact: training.asgroup@automatic-systems.com
---