Newest Addition to SlimLane Family
Brossard, Quebec – November 30, 2015-Automatic Systems, world leader in the automation of secure entrance control Equipment for pedestrian, vehicle and passenger access, proudly announces the new SlimLane EP security lane optical turnstile.
---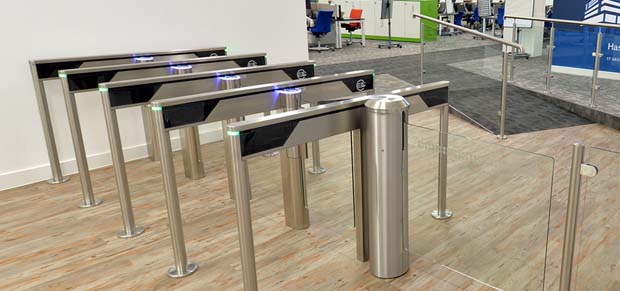 The SlimLane EP is an enhancement to the popular SlimLane optical turnstile and consists of extended end posts allowing for additional integration opportunities. The SlimLane EP is designed to complement and enhance a client's architectural environment while allowing the flexibility of integrating multiple peripherals, including elevator dispatch screens, biometric technology and bar code readers (i.e.; q-ScanT) and visitor management systems. A combination of elevated computing power and a high density matrix of IR beams guarantees superior tailgate detection with SlimLane EP, as well as other barrier optical turnstile products by Automatic Systems.
The SlimLane EP, as with the entire range of SlimLane swing door optical turnstiles, combines high speed bidirectional throughput with the highest reliability, security, and footprint variations of any barrier type optical turnstile. Available in narrow or wide lane versions and single or double swing doors in 24V or 120V power configuration, SlimLane is already widely known as the most versatile swinging glass turnstile. Also recently launched, SlimLane products offer a 5 year warranty program.
In the same manner as all SlimLane products, the SlimLane EP is available in glass heights ranging from 35" to 72", and this clearly establishes SlimLane's status as the only security entrance lane with such a wide range of obstacle heights and UL certification across the board. The higher glass availability allows SlimLane to meet the strict security demands of many government and corporate security specifiers and clients.
Slimlane offers IP network connectivity and is UL2593 listed to help satisfy the most stringent of building and safety codes. Automatic Systems is the only manufacturer to offer UL2593 on its entire range of swinging glass obstacles turnstiles. The unique Egress mode prevents forced entry attempts through mechanical locking of the barrier obstacles while still allowing emergency egress at any time, and SlimLane is only lane of its kind to offer such a feature.