BHW Bausparkasse is banking on comprehensive building and site protection
Automatic Systems installs sensor barriers and gates
BHW Bausparkasse AG was formed in Berlin in 1928 as a building society for the civil service and it is a German financial services provider with its current headquarters in Hamelin in Lower Saxony. The business has been a subsidiary of Postbank since 2006, which is in turn a subsidiary of Deutsche Bank. The various clients of the group of companies such as BHW Bausparkasse, BHW Kreditservice, Postbank Immobilien and Postbank Finanzberatung are located at the headquarters in Hamelin. With entries effected by around 2,000 of close to 3,000 entitled persons every day, it is virtually impossible to maintain an overview of who is authorised and who is not.
System was past its best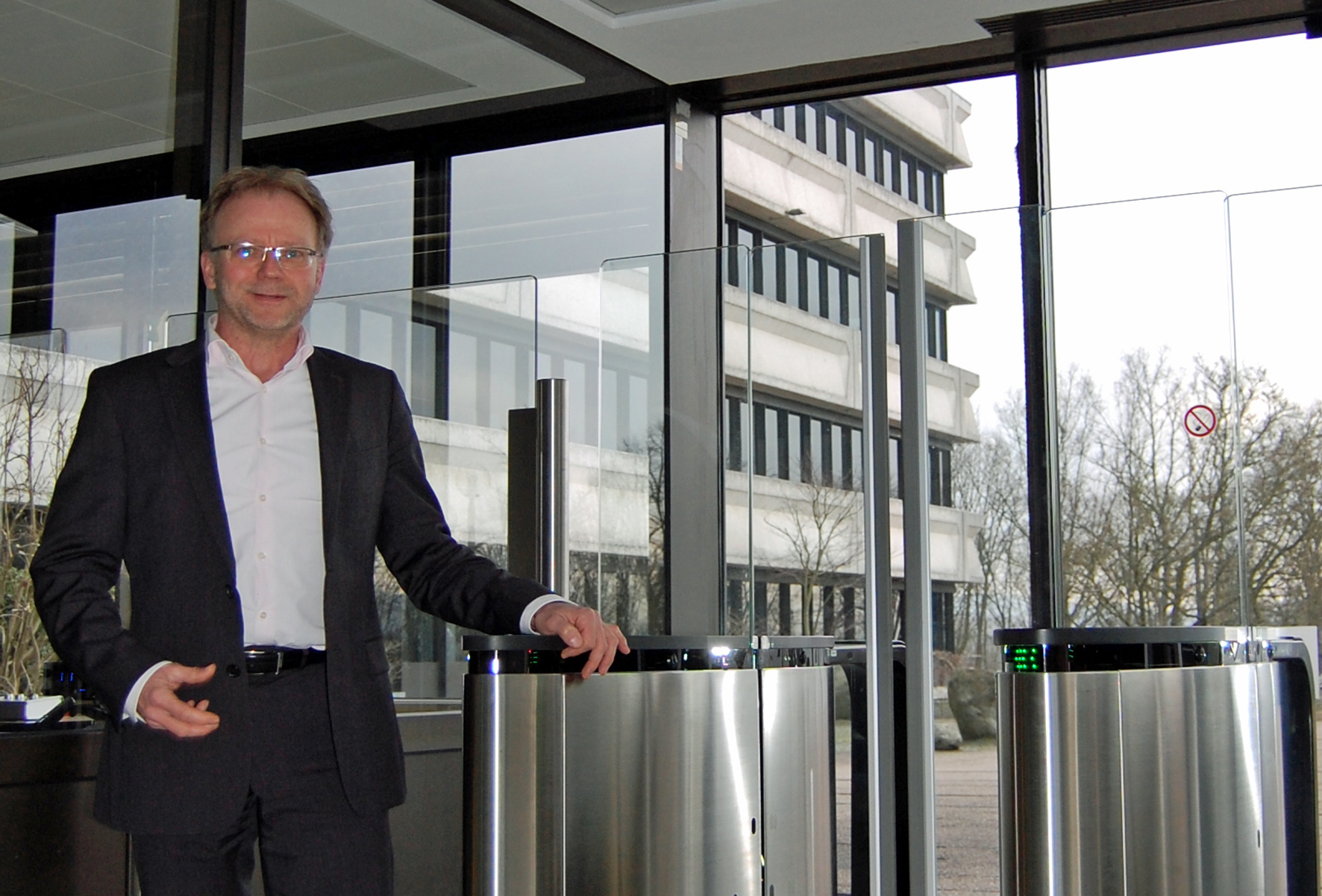 BHW/Postbank has relied on a contactless pedestrian flow control system from Automatic Systems alongside a gatekeeper lodge at both employee entry points since the early 2000s in order to meet this challenge. Following maintenance work and technical adaptation to a new regulation, the control system was however no longer working seamlessly. "The control system was over 15 years old so it was hardly surprising that it did not harmonise with the new software. Ultimately only one of the four gates was working and with 2,000 employees passing through every day this did have some adverse effects", Heinrich Schütte, Buildings Coordinator at CSG GmbH explains. CSG GmbH is a cooperative venture of Bilfinger Facility Services and Deutsche Post DHL and it is responsible for the facility management and thus also for the creation of decision-making submissions for technical new acquisitions. "The flow control system met all the requirements of an administration system and functioned seamlessly for many years", adds Thomas Thiemer, Internal Manager for Property Management at Deutsche Postbank AG with a responsibility for maintenance and repair budgets. They decided to work together with Automatic Systems once again for the new acquisition, which was cheaper than a complete renovation, due to the previous positive cooperation over many years. The gates and barrier systems are controlled by access terminals supplied by Interflex. Together with its partner Automatic Systems, Interflex provides a holistic solution for BHW.
No compromises from the point of view of user-friendliness and security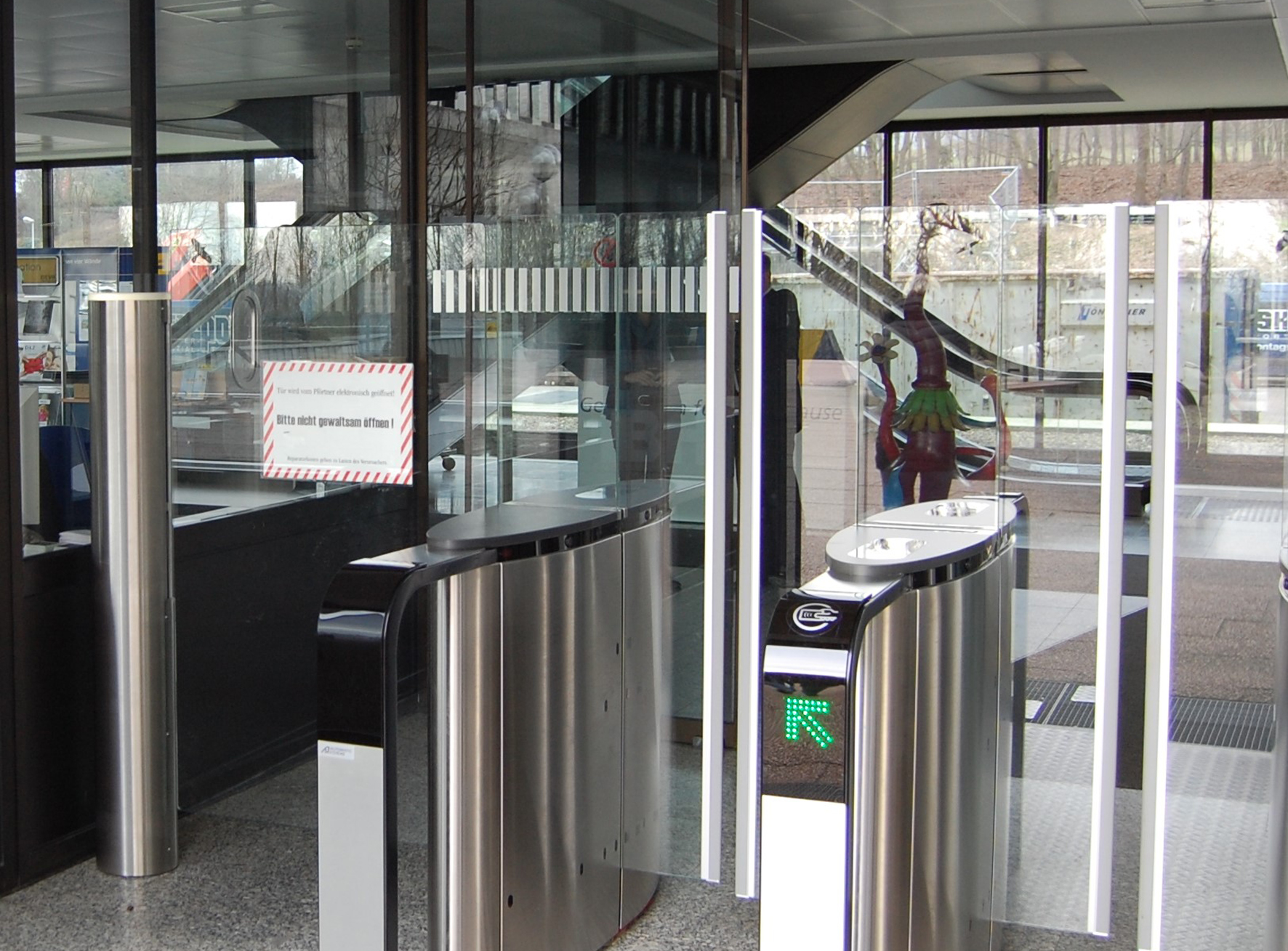 The final choice made was four SmartLane 901 systems and one AccessLane 934. Both product solutions provide user-friendliness and security without compromises and thus correspond to the concrete ideas of those responsible within the company. SmartLane scores highly thanks to its ability to process up to 40 people per minute, meaning that it proves its worth during peak morning periods in particular. The illuminating pictograms in the housing which display the current status and enable intuitive operation also make a positive contribution. The 1700 mm high glass panes and the lateral barriers with glass barrier elements provide additional protection, prevent climbing over and unauthorised access. This also represents a change compared to the previous product, which had an overall height of around only one metre. SmartLane counteracts forcible attempts to open with mechanical locking and an acoustic and electronic signal. By contrast the glass barriers open automatically in the event of a power failure so that escape routes remain freely accessible in the event of an emergency. The safety factor is also emphasised with rubber strips on the glass. As many employees enter and leave the building with trolleys, the SmartLane also has a trolley detection system. "There are many people with restricted mobility who work at our premises. This is why we have installed an AccessLane at one of the two entrances in addition to the two SmartLane systems", Thiemer explains. It combines all the benefits and technical qualities of the SmartLane and it also stands out because of its extra wide passageway, which enables wheelchair users to enter and leave the building without difficulty. It is also possible to use the AccessLane for the conveyance of larger objects or carts.
The barriers were also replaced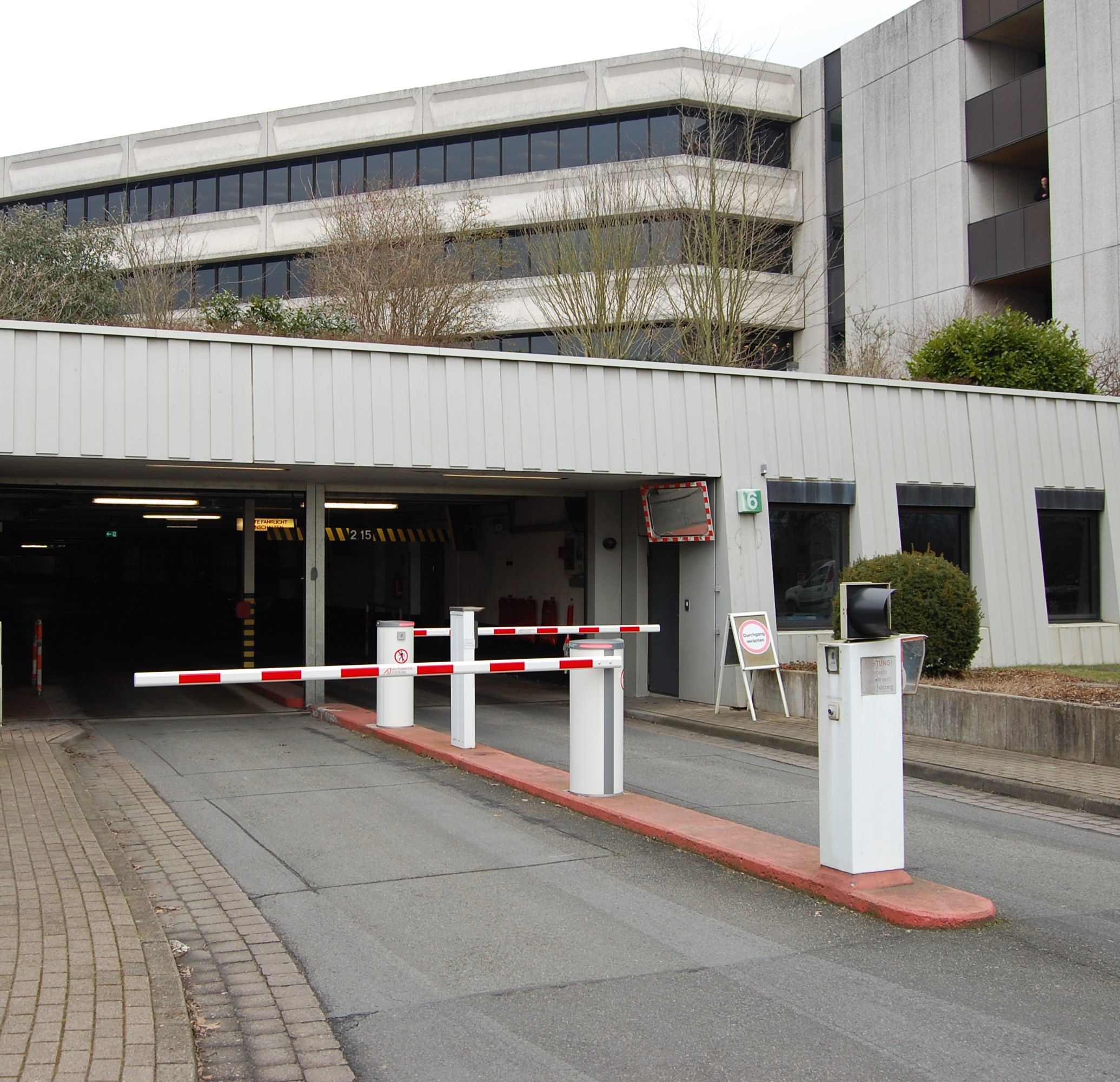 During the course of our cooperation it also became clear that the barrier systems on the company site had seen better days. This was associated with high repair costs and a lack of replacement parts. The people responsible thus decided to secure the parking spaces and the underground car park with a total of six ParkPlus barriers together with LED lighting in the cover plus two BL229 systems. "Although not every employee comes to work in a car and lots of car pools have been formed, the barriers are nonetheless exposed to intensive use", Schütte explains. The durability and robustness of the ParkPlus barriers make them ideal for such frequent use. It carries out the movements perfectly despite its opening and closing speed of 1.2 seconds. With its round housing and LED lights integrated into the cover, the car park barrier is also extremely eye catching. A green light indicates that it is possible to proceed while flashing red LEDs indicate movement and prohibit driving through. The lighting may initially appear superfluous and something of a gimmick but the light does make it absolutely clear how the driver should proceed. The aluminium profiles of the outer shell can easily be replaced if any damage occurs. The BL229 model is used for two wider approaches and it was also developed for high frequency and intensive use. A barrier boom of 5 metres prevents any circumnavigation and unauthorised parking. "As the LED lighting was so well received by the employees and the Executive Board and it is not present on the BL229 as standard, we worked together with Automatic Systems to find a different solution", Schütte enthuses. The employees of BHW/Postbank are particularly pleased about the fact that they can continue to use their old authorisation cards for both the pedestrian entry barriers and the car parks. Our aim was to provide the employees with a better and more secure feeling. That is exactly what we have achieved with the modern sensor barriers and gates. We are extremely satisfied with the cooperation with Automatic Systems, the quality of the products and the price-performance ratio", Thiemer concludes.