Speed Gate Market Leader
Montreal, Quebec – October 29, 2015 – Automatic Systems, world leader in the automation of secure entrance control equipment for pedestrian, vehicle and passenger access, proudly announces their position as North American speed gate market leader. This, according to the most recent IHS technology report.
---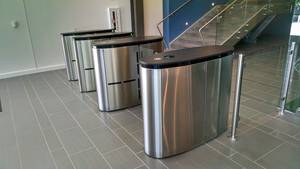 In the American market, Automatic Systems increased its market share by over 4%, putting them in the top spot. In addition, with a 4% increase, taking a 22.5% market share, Automatic Systems is the leading supplier of speed gates for intrabuilding applications in the American Market.
The Market for Pedestrian Entrance Control Equipment – 2015 report by IHS studies various product types within the pedestrian market. Speed gates are among this list. To be classified a speed gate, the equipment must enable authorized personnel to enter restricted areas. Speed gates are equipped with sensors that detect the presence of people and objects, as well as the direction of travel. The two most popular types of speed gates are retractable, occupying 38% of the speed gate market in North America and swing gates, occupying 50% of the same market. Within this category, Automatic Systems offers both the SmartLane retractable glass barrier optical turnstile and the SlimLane swing door barrier optical turnstile.
The SmartLane retractable glass barrier optical turnstile provides the highest level of optimization between throughput and security, combined with enhanced user ergonomics and improved user safety, all while identifying fraud attempts and eliminating tailgating. It combines high throughput with a high performance detection system, streamlined design and IP connectivity for remote configuration, maintenance and management. In addition to being subject to a rigorous quality control process, the SmartLane is certified UL 325.
---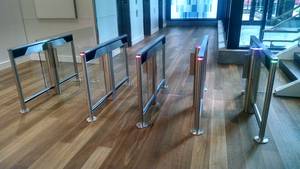 SlimLane swing door security entrance lanes combine high speed bidirectional throughput with the highest reliability, security, and footprint variations of any barrier type optical turnstile. Available in narrow or wide lane versions, single or double swing doors, as well as 24v or 120v power configuration, SlimLane is already widely known as the most versatile swinging glass turnstile. SlimLane is available in glass heights ranging from 35" to 72", establishing it as the first to offer such a wide range of obstacle heights. SlimLane offers IP network connectivity and is UL 2593 listed to help satisfy the most stringent of building and safety codes. Automatic Systems is the only manufacturer to offer UL 2593 on its entire range of swing glass door obstacle turnstiles. The unique Egress mode prevents forced entry attempts through mechanical locking of the barrier obstacles, while still allowing emergency egress at any time, and SlimLane is the only turnstile of its kind to offer such a feature.
IHS' report also noted a very strong trend towards product customization. Aesthetics continue to play a large role, as clients look for gates that complement their building's interior. This in turn leads to a tendency towards wanting the product customized to perfectly suit the environment. At Automatic Systems, we know that product customization and utilization of the latest technology are both key to designing high performance equipment adapted to the customer's needs and have proudly offered a vast array of customized products throughout our history.