TRS BIKE
The increasing popularity of electric bicycles and scooters on our roads reflects the will to switch to eco-friendly and sustainable transport options. Apart from their environmental benefits, the micro-mobility solutions offer practical advantages. They provide a swift and efficient means of navigating congested urban areas, allowing commuters to escape the time-consuming clutches of traffic congestion.
As these two-wheeled modes of transport become integral to our daily lives, it is crucial that we adapt our infrastructure to accommodate this growing trend. This surge in eco-friendly transportation usage necessitates secure, convenient, and accessible access to a wide range of environments, from industrial complexes to schools and residential communities.
TRS BIKE is the solution designed to meet this demand by providing efficient access control for both pedestrians and cyclists. Our full-height turnstile is a space-efficient security barrier with a compact design, allowing seamless integration of access control systems such as card readers, biometric readers, remote control units. This adaptability makes TRS Bike the perfect choice for property owners seeking to embrace this emerging trend in eco-friendly mobility, ensuring smooth access control while enhancing the overall accessibility and security of their facilities.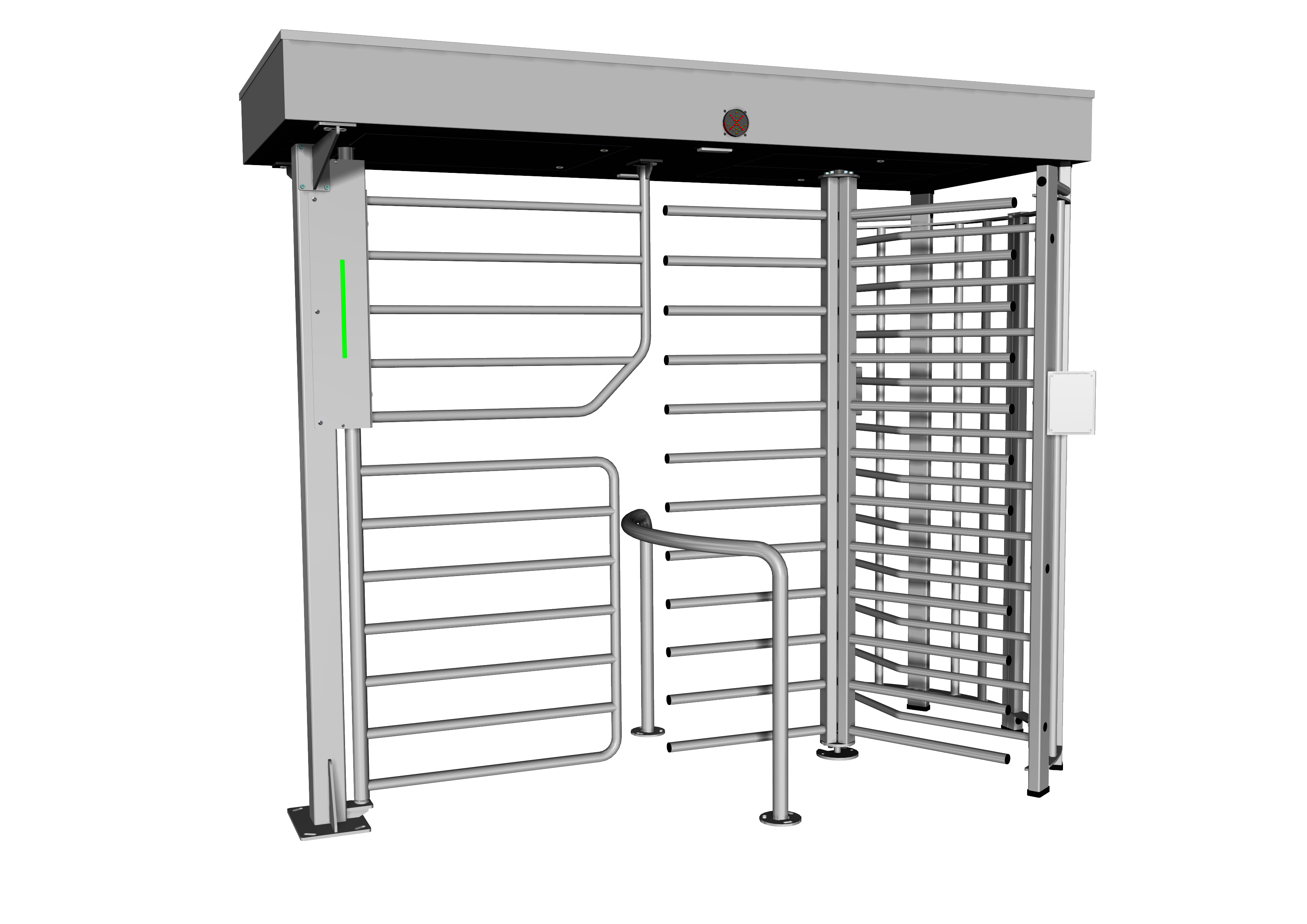 ---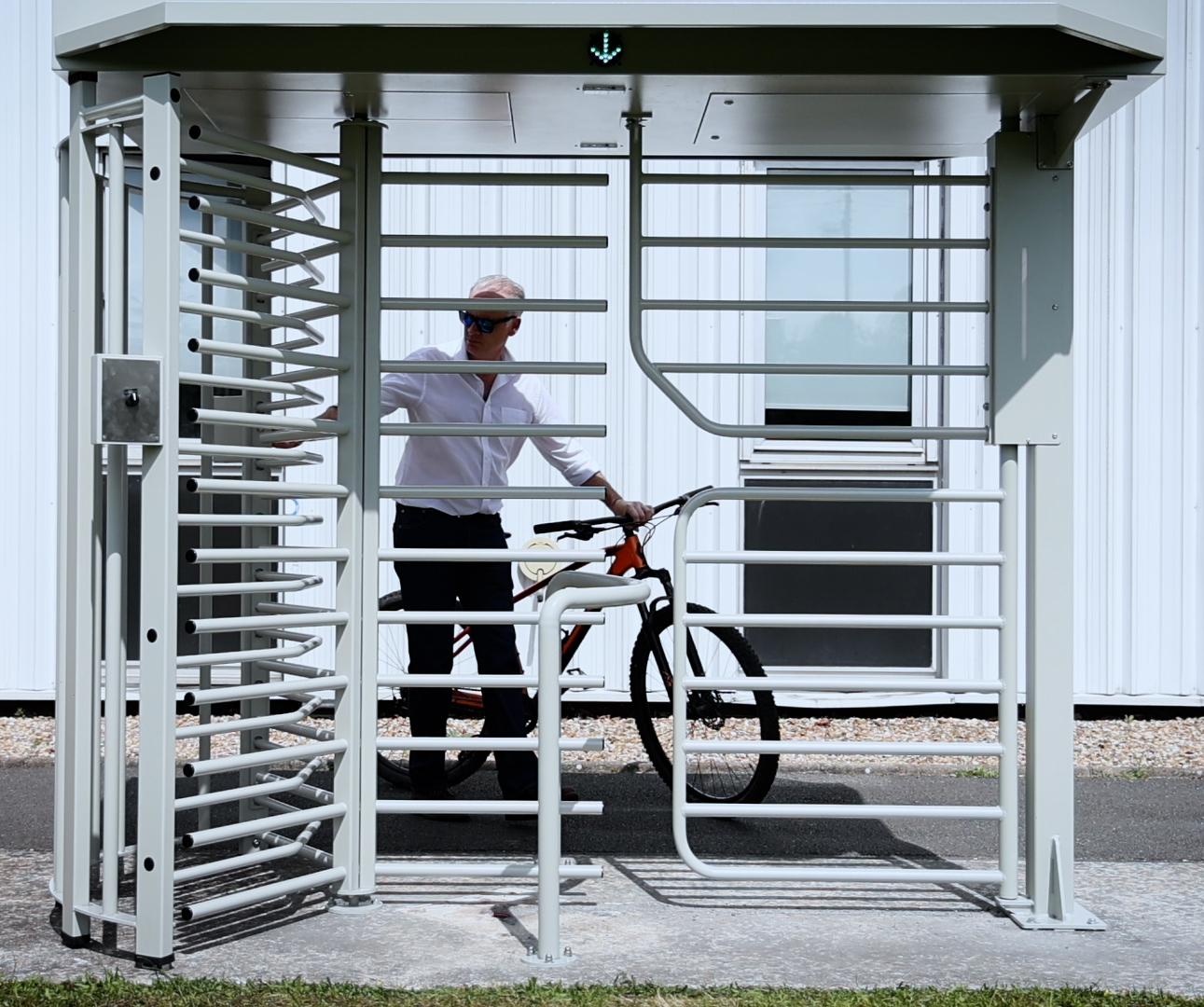 TRS BIKE turnstiles consist of a single-lane TRS 370 turnstile with three arms for pedestrian management and a bi-directional, motorized gate designed for accommodating bicycles and other micro-mobility devices. With its design, it seamlessly integrates into the TRS 37x full-height turnstile series for side-by-side or offset installation. Being entirely self-contained, the TRS BIKE turnstile can be installed at either the right or left end of an existing battery of TRS 37x turnstiles or placed in the middle of the battery. Multiple options are available to address various pedestrian access control scenarios, including a twilight switch for lighting activation, heating resistance, function pictograms coupled with reader operation, manual unlocking with a fireman's key (only in France), canopies, and reader enclosures.
---
Main Benefits :
Unrivaled Security: TRS BIKE is your first line of defense against unauthorized access. It's the perfect fit for various environments, including industrial, sports, commercial and office complexes, stations, schools, car parks, residential communities, and more.
Built to Last: Crafted from high-quality, corrosion-resistant steel, TRS BIKE is designed for outdoor installations. It can withstand the harshest environmental conditions and heavy-duty use, making it a long-lasting solution that you can rely on.
 Bi-Directional Passage: Our full-height turnstile offers bi-directional passage with a motorized gate dedicated to bikes and micro-mobility vehicles, ensuring smooth and efficient access control.
Customizable Operating Modes: Tailor TRS BIKE to your specific needs with customizable operating modes, providing a versatile solution for your access control requirements.
Uninterrupted Access: Even in the event of a power failure, TRS BIKE ensures simultaneous, rapid, and safe access for riders and their bikes. Your security and convenience remain a priority.
Safety First: We meet safety standards with low and controlled impact forces for rider and bike passage, assuring the well-being of all users. TRS BIKE is compliant with the latest CE norms and standards for your peace of mind.
Advanced Detection: TRS BIKE features advanced bike detection through induction loops or a unique smart sensor capable of identifying non-steel micro-mobility vehicles, enhancing security and convenience.
Vandal-Resistant: Built with durability in mind, TRS BIKE is vandal-resistant, safeguarding your investment and ensuring continued reliability.
Great Value: TRS BIKE is not just a high-quality solution; it's also a great value for your money, offering long-term cost-effectiveness while meeting all your access control needs.
Invest in the future of access control with TRS BIKE. Contact us today to learn more about how our full-height turnstile can enhance security and convenience in your environment. Secure, durable, and efficient, TRS BIKE is your partner in controlling access for pedestrians and cyclists alike.
---
Applications :
Car parks
Administrative buildings
Schools and universities
Stadiums and sports complexes, amusements parks
Train stations
Residential communities
Hospitals
Industrial areas, logistics and building sites
---