SlimLane
The SlimLane speed gate is designed to secure access to your building and control the flow of pedestrian traffic, as well as offer an elegant design and high reliability.
With its fast swing obstacles, SlimLane turnstile combines a high bidirectional flow of passage with high levels of security, without compromising user safety. Its exclusive DIRAS® detection system allows precise control of users for maximum protection and safety. In addition, its modularity allows a wide range of configurations, obstacle heights and passage widths BRUSHED STAINLESS STEEL HOUSING
10MM THICK TEMPERED MONOLITHIC GLASS SWING OBSTACLES
ELECTROMECHANICAL DRIVE UNITS
KINETIC STEEL COLUMN WITH BRUSHED STAINLESS STEEL HOUSING
---
FEATURE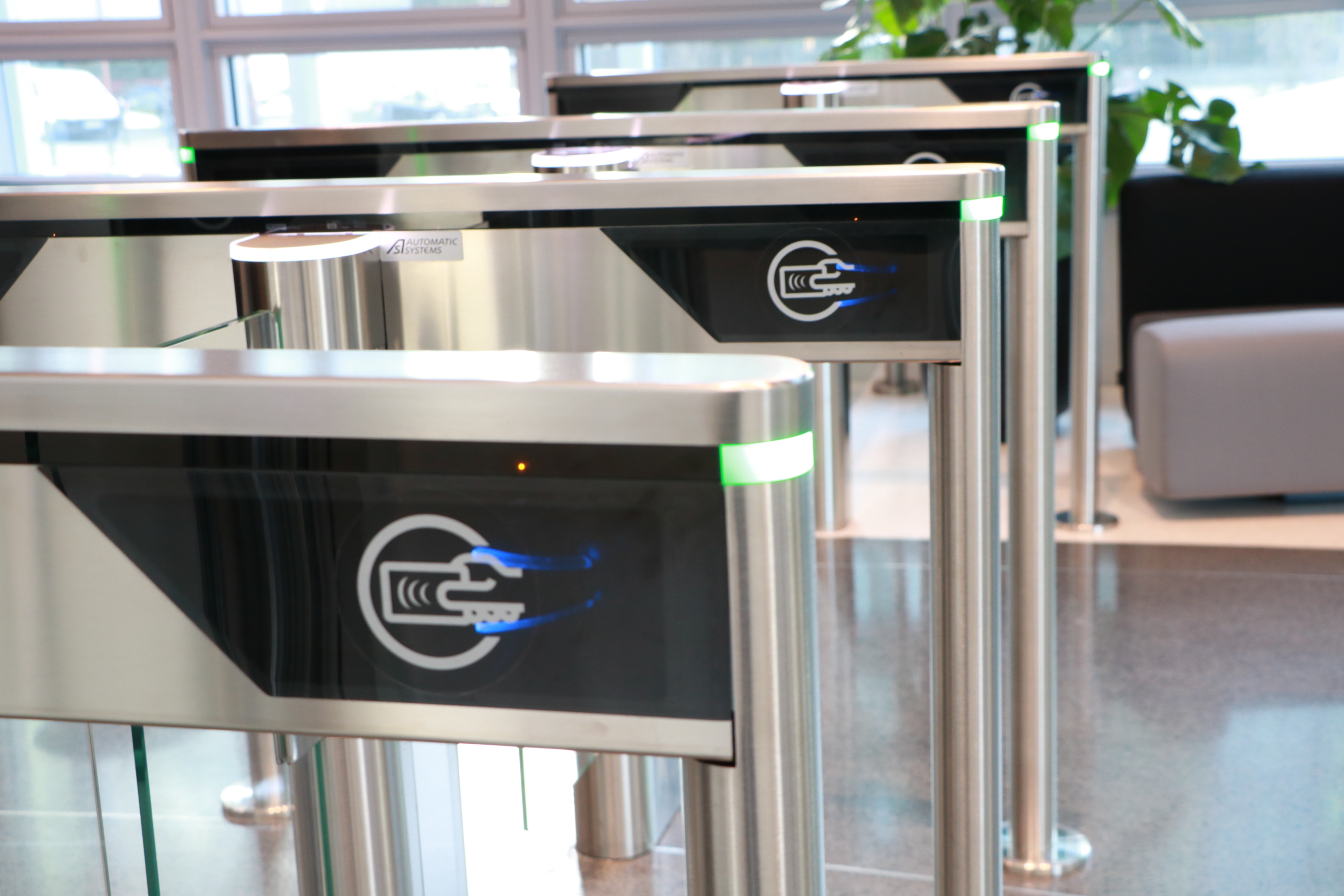 Designed in compliance with the most stringent safety and security standards:
CE certified
Emergency exit certified, EN13637
Precision controlled movement of obstacles and detection of all obstructions.
Limited force applied by obstacles.
Designed to prevent finger entrapment and other impacts.
Reinforced detection to enhance user protection and manage passage of luggage (option).
When combined with a fire alarm system and a fire alarm occurs, obstacles automatically open to free the passage.
When a power outage occurs:
In case of emergency the obstacles can be unlocked with a simple push to automatically open
Battery backup for automatic opening with a mechanism to lock obstacles open in the direction of egress (option)
---
SECURITY
Best in class for flow and Electronic detection proprietary DIRAS detection system.
High-density matrix of infrared beams follows users' progression through the gate
Dynamic and predictive (size, position, direction) algorithms ensuring top of the class performance for fraud detection: tailgating, piggybacking, trolleys, children, u-turn, crossing, multiple entries…
Electro-mechanical locking to withstand forced entry attempts.
Glass obstacles up to 1800mm without or with straight or sloping overhang.
Highly reliable product with 10.000.000 MCBF.
MULTIPLE INTEGRATION CAPABILITIES (OPTIONAL).
The cabinet allows to integrate authentication solutions including:
 RFID, QR-code and barcodes readers
Biometric devices
---
AESTHETICS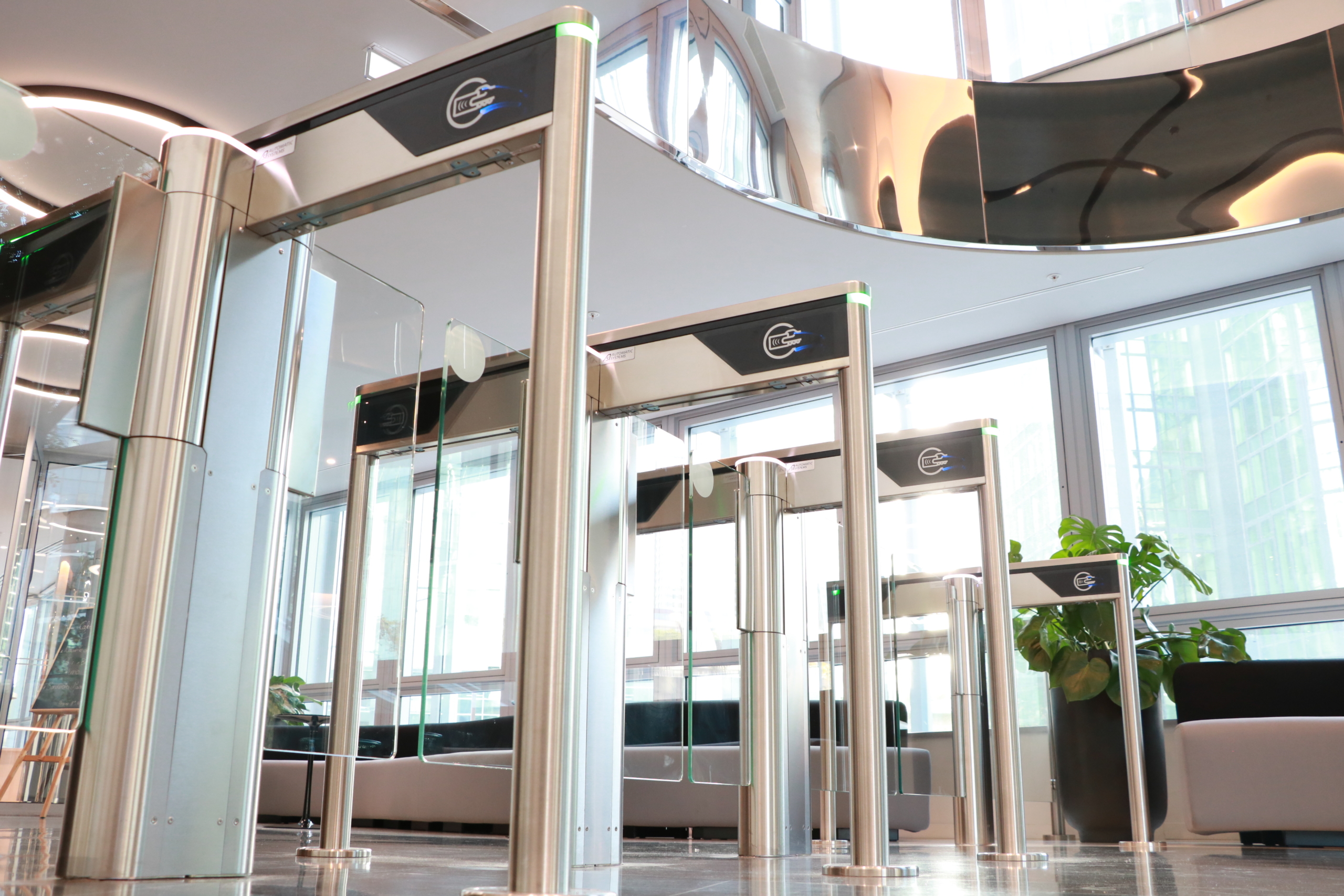 Transparent and elegant design
Minimal footprint for maximum throughput
Discreet and ergonomically integrated card reader
Precision controlled tempered glass obstacles
Top quality assembly and finish selection
Architectural and interior design custom fit
---
THROUGHPUT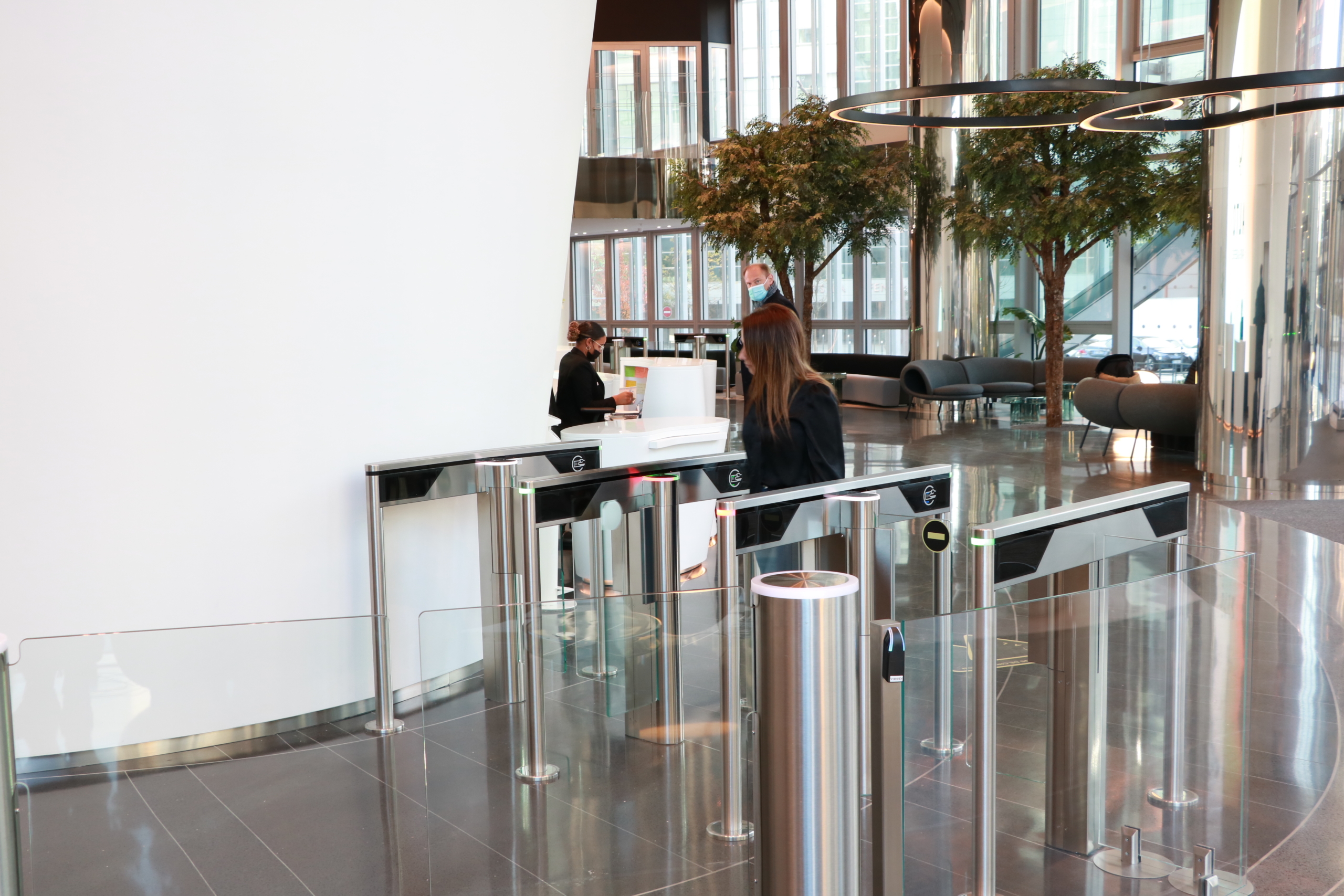 Fast opening/closing of swing doors (< 1 sec)
Obstacles pivot in the direction of the passage into the lane for a faster learning curve and ergonomic flow
Precise, well-lit pictograms for intuitive user experience and ergonomic
---
SAFETY
Enhanced electronic protection of luggage
'EGRESS' operating mode
Battery backup for automatic opening in case of power failure, with a mechanism to lock obstacles in the direction of egress
Emergency exit certified, EN13637
Wider passages and higher obstacles
---
CUSTOMISATION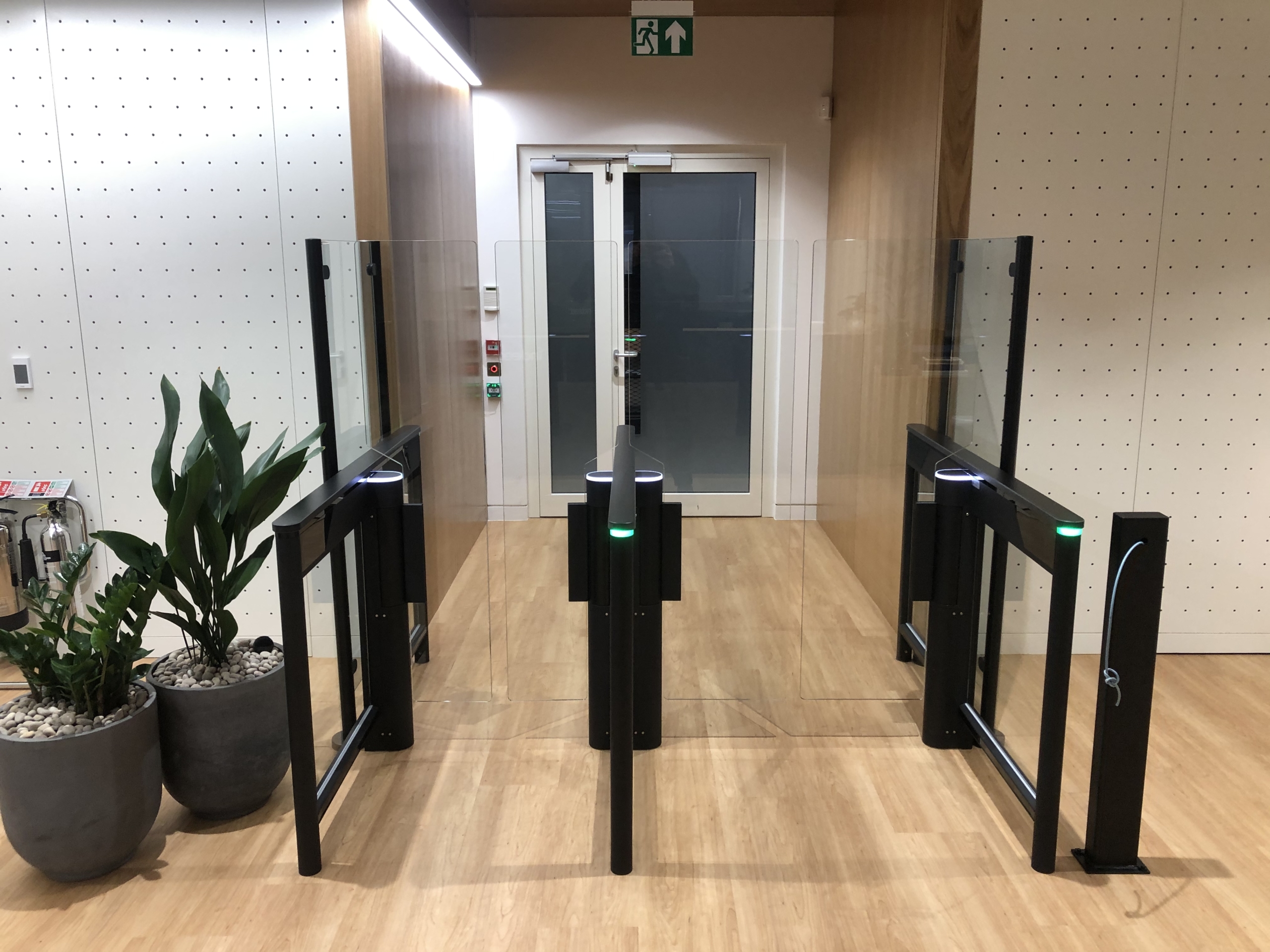 Customisable equipment integrating perfectly with your architectural style
Several paints available: RAL9005, RAL5008, RAL6014, RAL7003, RAL7016, RAL9010 (all stainless steel components)
With or without glass side panels
Customised glass obstacle (1200, 1500, 1700 or 1800mm hight) with pattern or logo
---
SUPERVISION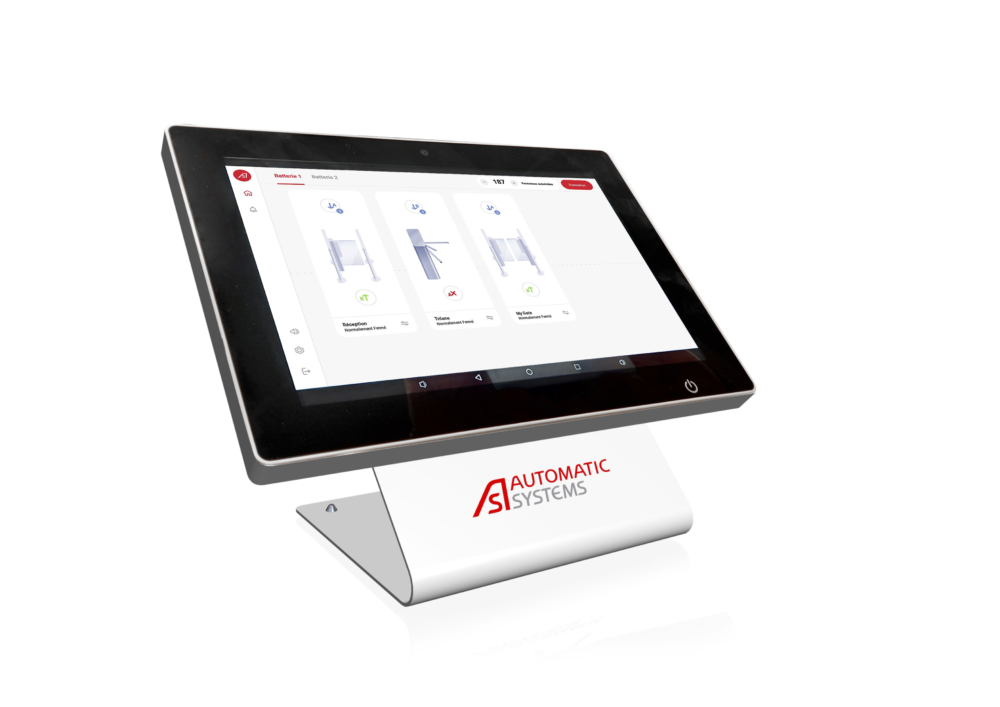 Smart & Slim monitoring panel for remote management of the turnstiles. It is a flexible command centre and allows for visualisation, control and consultation
SmartTouch surveillance interface. Simple and elegant solution for managing one or two access control equipment areas remotely, via an Ethernet network
SmartTouch allows counting of incoming and outgoing people in a controlled area and thanks to the HDMI output, it is possible to show the occupancy level of an area on screens Smooth integration of proximity, magnetic cardrea ders, biometric scanners and other user authentication systems:
Smooth integration of proximity, magnetic card readers, biometric scanners and other user authentication systems:
 Kit for integrating the reader in an extension housing or inclined console
 Top cover designed for barcode scanners IBC QSCANT
---
DIRAS DETECTION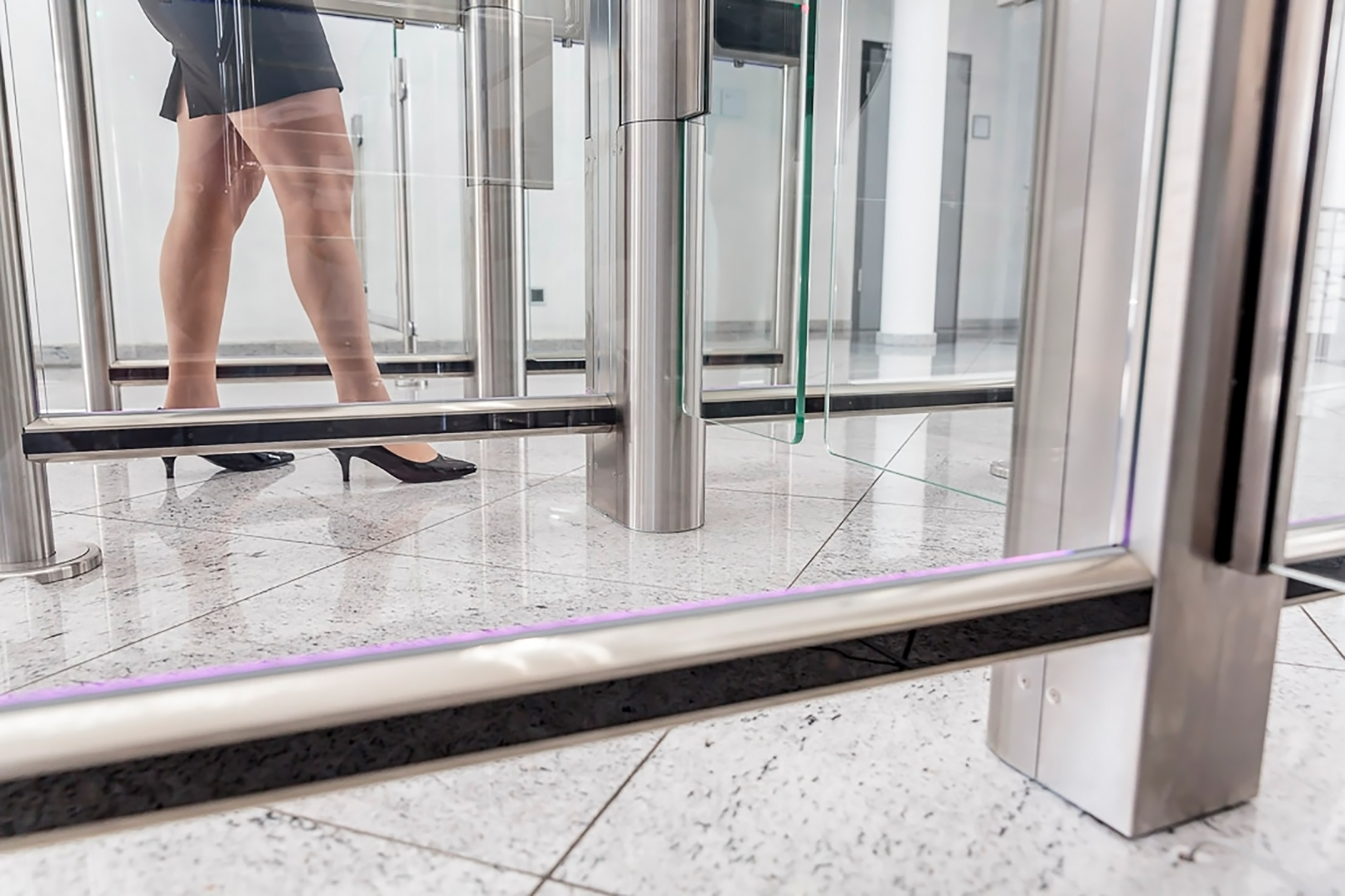 SlimLane detection is based on infrared cells positioned horizontally.
Waist-high positioning
Composed of four (4) DIRAS sensor bands with a total of 32 direct IR photo beams
The high capacity logic processor (ARM9) allows for crossing of the IR beams, thus doubling the detection density.
A total of 60 IR beams electronically controlling each passage and preventing unauthorised users in secured zone
Detects the most difficult fraud attempts:
Advanced tailgating attempt detection
Opposite direction fraud detection
Turnaround detection with the possibility of setting the tolerance levels
Anti-pass back function
Reliable "People Counting" system
A combination of elevated computing power and a high density matrix of IR beams guarantees dynamic and predictive user tracking.
Ability to track the user's passage in the lane from entry to exit point
Filtering of anything that may cause interference, obstruct or fall into the lane passage and which is not a security threat (arm movements, hand luggage,…)
---
MODULARITY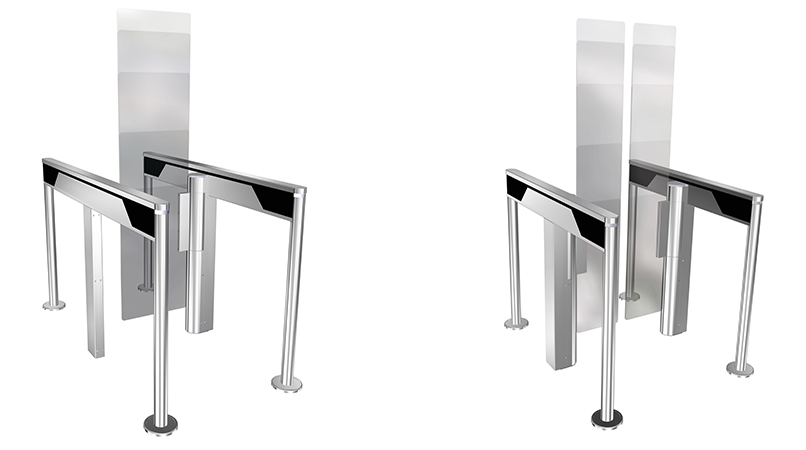 SINGLE OR DOUBLE DOOR
Passage width: 550/600/900mm
Extra wide: from 1200 up to 1400mm (option)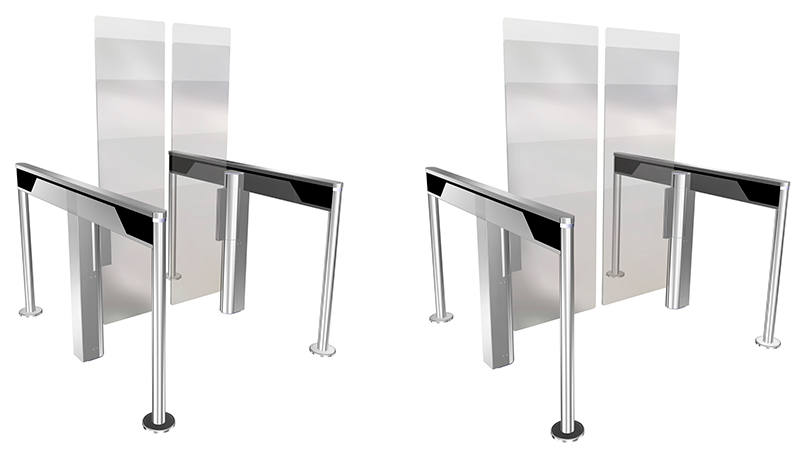 COMPACT TO WIDE
Footprint (W x L):
SL940: 1000 x 1640mm/1000 x 1274mm (SC)
SL950: 1300 x 1640mm/1300 x 1274mm (SC)
SL950EW: 1600x1640mm/1800x1640mm
SL944: 857 x 1640mm/857 x 1274mm (SC)
SL945: 1300 x 1640mm/1565 x 1274mm (SC)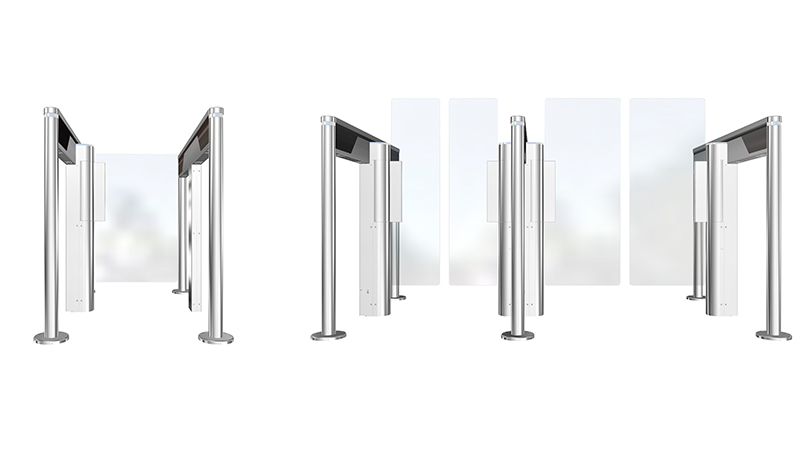 LOW TO HIGH GLASS OBSTACLES
Obstacle heights: 900/1200/1500/1700 /1800mm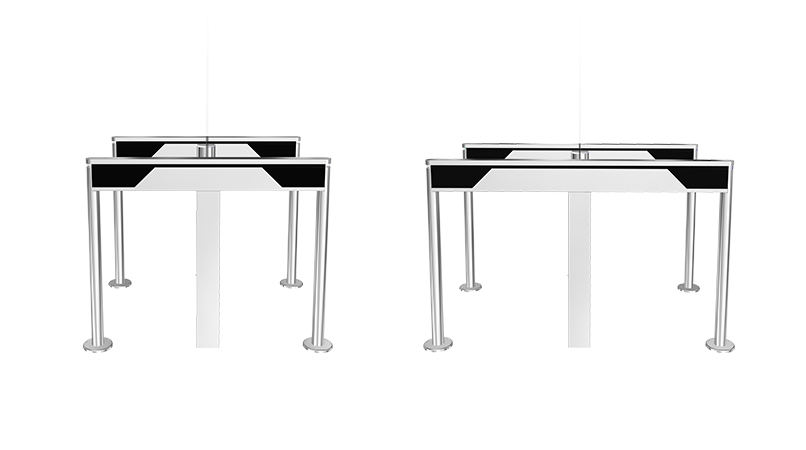 SHORT SC OR STANDARD HOUSING
Cabinet length: 1274mm short (SC)/1640mm standard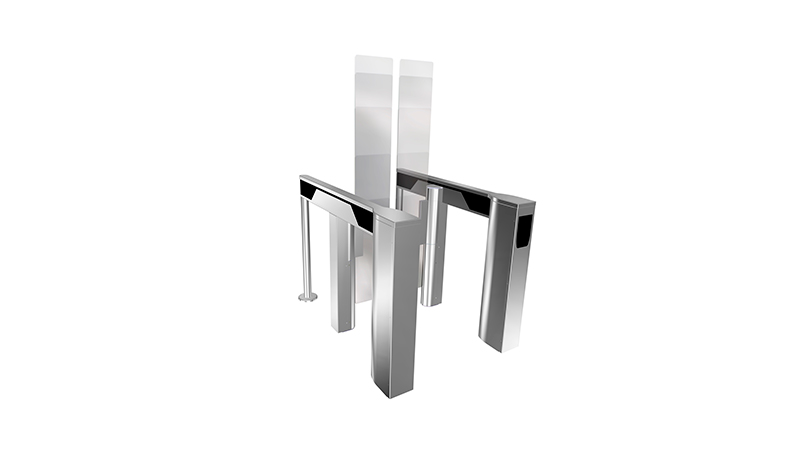 WITH END-POST EXTENSIONS (EP)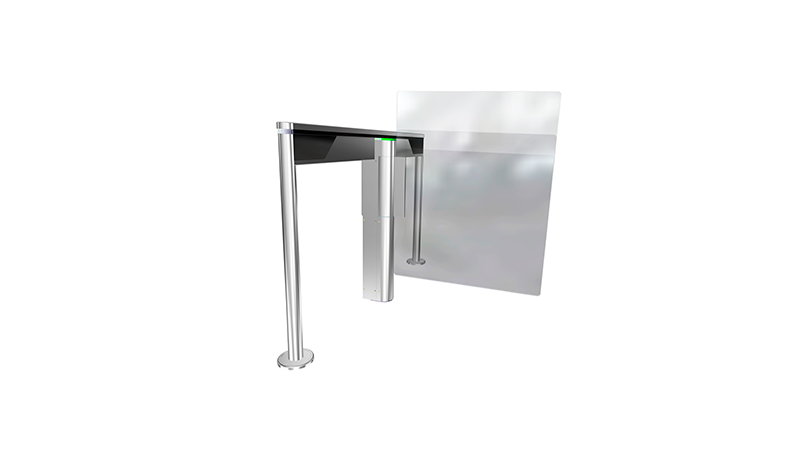 ---
APPLICATIONS
Offices
Banks
Public institutions
Data centres
Sensitive sites
Schools and universities
---
LINKS