A Practical Guide to Access Control Equipment in Leisure Facilities
Would you like to:
Expand your opening hours?
Reduce cases of fraud?
Organise more targeted marketing activities?
Easily manage the flow of people entering your gym in order to comply with health protection measures?
Installing access control equipment can help you!
As a specialist in the automation of access control, Automatic Systems is well aware of the issues you face and can offer tailored solutions.
This guide will look at the main advantages for installing access control equipment in leisure facilities. We then clearly outline the different equipment possibilities, specifying the advantages and disadvantages, the objectives and practical solutions.
Lastly, to ensure this guide is complete we will run through different automation systems.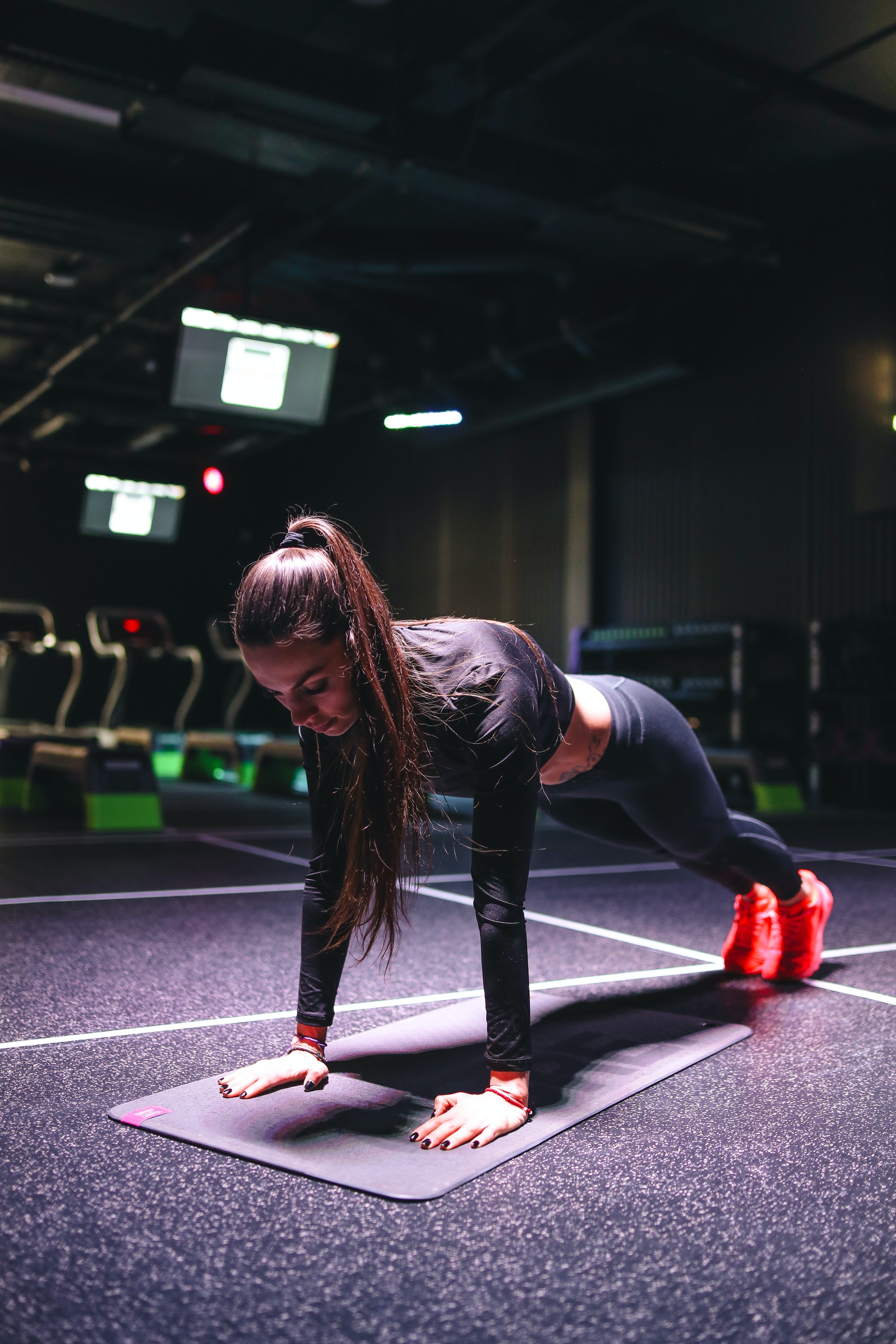 Securing access to your facility 24/7
Have you ever considered expanding your opening hours? With some access control equipment you can open 24/7 without the need to staff it.
By opening your gym over a longer time period the number of members attending can be more evenly distributed, helping with peak hours, machine waiting time and giving customers more space to train.   This in turn greatly improves their experience and gives them the flexibility to train at their own convenience.
In this health crisis leisure facilities are also required to enforce social distancing measures and to restrict access to a limited number of people. This has some impact on your activities. By extending your opening hours your gym can welcome more members.
Furthermore, 24-hour opening gives you a competitive advantage over home training equipment and applications. Your customers can access professional equipment in an appropriate setting, at any time of the day or night!
Reduce the risk of fraud
Few gyms are unaffected by fraud. Members sometimes sneak unregistered friends into the club or continue to attend without renewing their membership. They may also use other facilities onsite which their membership does not include.
With access control equipment in your fitness club it becomes possible to substantially decrease the risk of fraud as your members are obliged to identify themselves to access your premises. Thanks to a badge reader or an integrated QR code reader, the equipment can for example automatically refuse access to members who haven't paid their subscription or who haven't provided their medical certificate. Of course, it can also block access to anyone who does not have their staff badge. So no more sneaking in of friends or family members who don't pay subscription fees!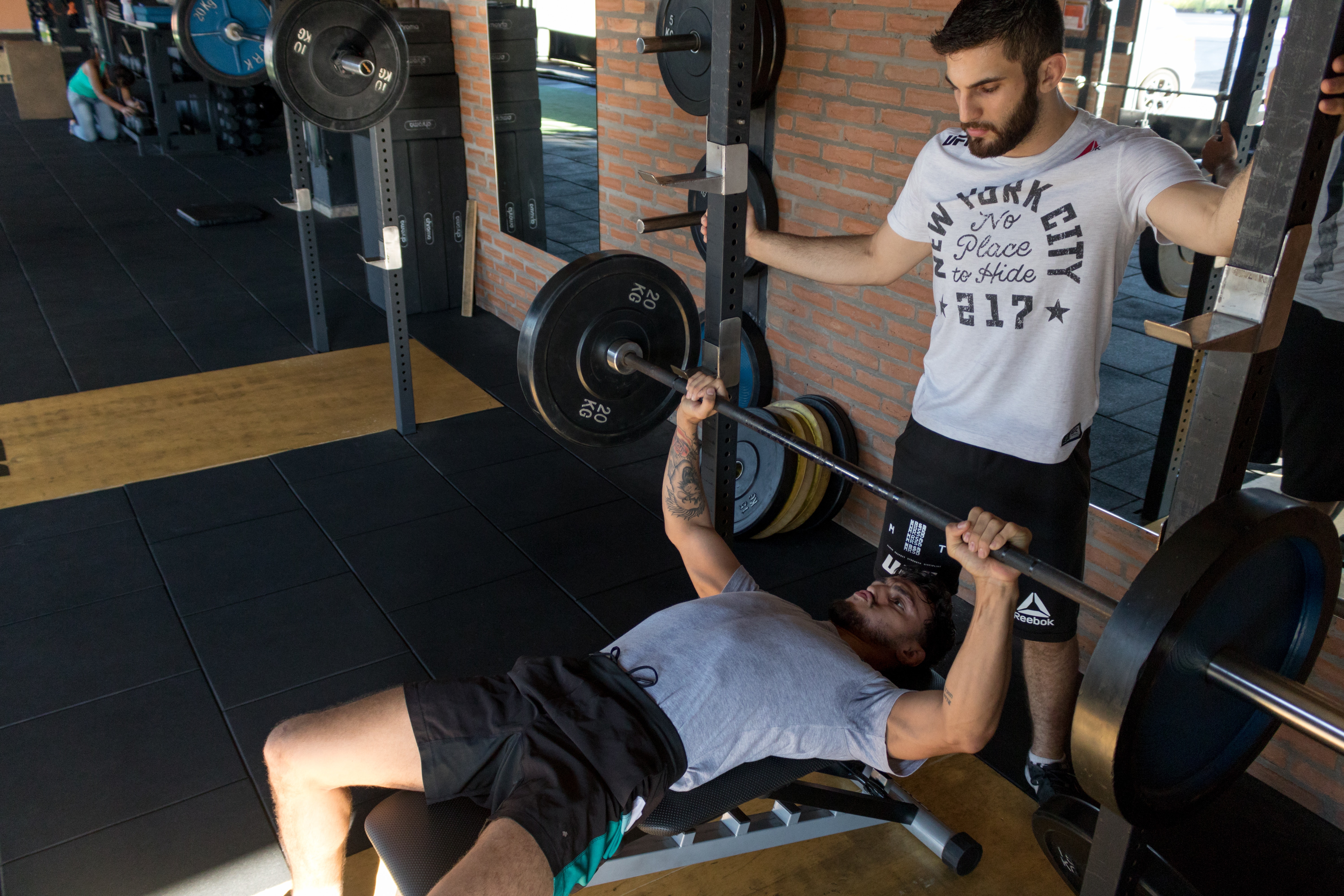 Make life easier for your staff
Trainers are there to help your members. Their main mission is not to police the entrance or ensure people follow the rules. By opting for access control equipment in your gym you firstly enable your staff to focus on their work without interruption. Trainers are therefore more available to help your members train effectively, to give group lessons or for other value-added tasks. This is especially true in the current health crisis when supervision needs to be more intensive: you avoid having a staff member on duty at the facility's entrance.
You contribute to compliance with the rules, by automatically preventing access to the private areas such as storage rooms or the staff-only rooms. Also, thanks to some equipment, your members cannot access any infrastructure and services that are not included in their subscription, like showers, sauna, swimming pool or group classes.
Lastly, your trainers will no longer have to be the bearers of bad news by reminding members what they can't do. Their access will be blocked automatically by the equipment. This helps to maintain good relations between your colleagues and customers!
Use the data for marketing purposes
Would you like to boost your turnover by organising targeted marketing activities? Attendance statistics are the key to developing communication and marketing strategies. Underlying software connected to the access control solution can provide you with lots of useful and useable information.
Imagine for example that the statistics on people's entrances and exits indicated that your gym is almost empty between 9 and 11 in the morning. You could then offer specific promotions targeted at those times, for example a reduced-rate subscription for use only in the morning.
You could also personalise the messages displayed on the screens at the entrance in order to warmly welcome your paying members and, for example, wish them a happy birthday. The possibilities are almost limitless!
How do I know which equipment to choose?
To select access control equipment that is right for your gym it is important to take into account a variety of factors:
number of members
desired level of security
general atmosphere you would like to create
1. Tripod turnstiles
Advantages and disadvantages
A tripod turnstile offers you a medium level of security. This equipment acts as a superb deterrent, because people will struggle to get around it without being noticed. In addition, this access control equipment enables a fairly fast throughput (around up to 20 people a minute).
But the tripod turnstile has a few disadvantages. It's not the most elegant solution and it only lets through one person at a time. Some cheating is also still possible, such as 'jump over' when someone leaps over the barrier, or 'crawl under', which involves crawling under a turnstile arm.
When should we choose a tripod turnstile?
Supposing your gym does not have many members. Or maybe you have a limited budget and the equipment's looks are not your main priority. In these cases, the tripod turnstile may be suitable for you. However, we would still recommend you have a colleague on duty at reception. So this solution is not ideal if you want to keep your gym open 24/7 without staff.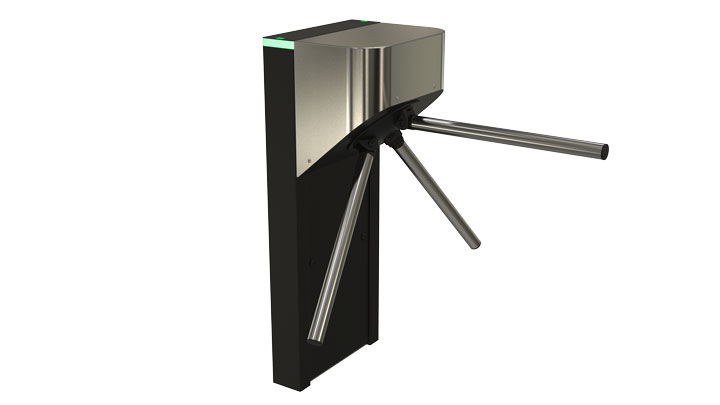 Why choose Automatic Systems' TriLane TL 1 tripod turnstile?
The TriLane TL 1, made by Automatic Systems, is a one-foot tripod turnstile with a compact design. It doesn't need much space to be installed. Like all the access control equipment by Automatic Systems, the TriLane TL 1 is very robust. Moreover, the arms can be released to facilitate easy evacuation in an emergency. Finally, the TriLane TL 1 can be connected to a monitoring panel (Smart&Slim) or an autonomous monitoring interface (SmartTouch). Our turnstile is also available in the SafeFlow version, an integrated solution designed by Automatic Systems to comply with preventive measures, in order to combat the spread of COVID-19. You can find out more about this subject at the end of this document.
2. Speedgates
Advantages and disadvantages
A speedgate offers you a higher level of security. Equipped with swing or retractable glass doors, it ensures a fast and bi-directional flow of traffic. Unlike turnstiles, speedgates offer a greater passage width. This guarantees greater user comfort: for example, the lane's width allows people with reduced mobility to access your infrastructure or it allows the maintenance team to pass with a cleaning trolley. Moreover, this access control equipment with transparent glass can blend easily into a stylish environment.
Unlike the tripod turnstiles, the speedgates should detect tailgating although they cannot prevent this: an alarm will sound to alert staff. You will also need to pay more for a speedgate than for a tripod turnstile.
When should we choose a speedgate?
Do you have a fairly large number of members? Are you keen on aesthetics and user comfort? If you are also willing to spend a little more, a speedgate is ideal for you. But it's worth noting that a staff member must always be available to check if any cheating has occurred.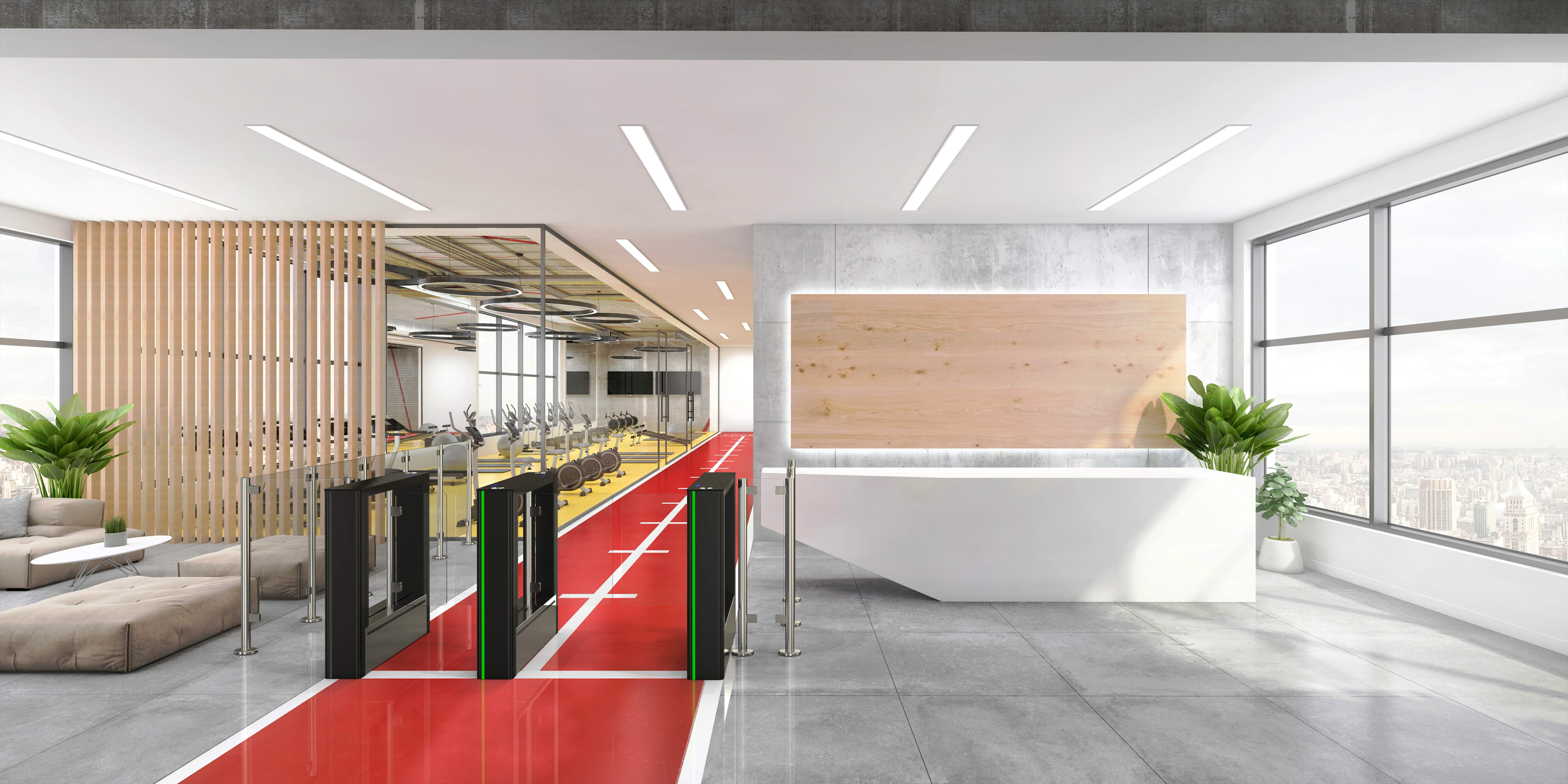 Why choose Automatic Systems' FirstLane speedgate?
The FirstLane by Automatic Systems is a speed featuring the latest swing doors. With its trendy style and architecture, glass side panels and stainless steel bodywork, this access control equipment is especially elegant. It looks just right in a top-of-the-range gym! It also offers the best detection on the market, calling on sophisticated DIRAS infrared detection technology. Additionally, the detection system installed in the lower part of the equipment enables the recognition of trolleys, carts, children, etc. The FirstLane is a reliable solution with a proven quality, guaranteeing you a good quality/price ratio. Better still, this equipment can also be connected to remote monitoring consoles. The FirstLane speedgate is also available as the SafeFlow version, described further on in this guide.
3. Full-height turnstiles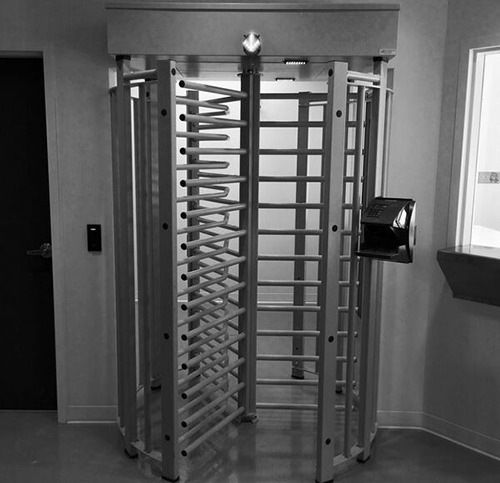 Advantages and disadvantages
A full-height turnstile offers you a very high level of security. This system is complete and highly robust, and it can often be seen at the entrance to stadiums. It's impossible for someone to pass underneath or over the top of this large barrier, which is 2m30 high. The full-height turnstile enables bi-directional throughput. Moreover, it's an ideal solution if you want to open your gym 24/7 with no staff. This equipment provides 100% automatic access control without human intervention. You do however need plenty of space to install it so will not be suitable for some sport facilities.
Although highly efficient, a full-height turnstile is not aesthetically impressive. But you can choose this equipment in the colour of your choice so that it blends better into your interior. Also note that this turnstile does not enable fast throughput or the passage of large objects (trolley, cleaning cart, etc.).
When should we choose a full-height turnstile?
Do you only have a limited number of members, but have a fairly large budget to cover security and you have sufficient space? Moreover, if security is more important to you than aesthetics and the convenience offered to your members, then a full-height turnstile is perhaps the best solution for your gym. Particularly if you want the gym to remain open 24/7!
Why choose Automatic Systems' TRS full-height turnstile?
The TRS full-height turnstiles are particularly simple, robust and efficient access control equipment. They are ideal if you want to open your gym 24/7. They offer optimal prevention of fraud. Some models also allow bi-directional passage. Furthermore, Automatic Systems allows you to add a motorised swing door for the passage of persons with reduced mobility.
Which systems can be integrated with access control equipment?
If you opt to install a tripod turnstile, a security lane or a full-height turnstile in your gym, you will need to include access control systems, as proposed by system integrators. Equipment from Automatic Systems is specially designed so that it can be integrated into any system.
Badge readers
Badge readers are the most common form of access control system. They are simple to use and enable fast throughput. Their effectiveness is increased when they are accompanied by a screen, enabling visualisation of members' faces. This significantly reduces the risk of fraud. However, this system has some drawbacks, mainly related to badges. These plastic cards can become damaged over time. There is a cost for issuing and replacing them. If one of your members has left their card at home, this could also prevent them from automatically gaining access to your gym.
QR code readers
QR code readers are an increasingly popular solution. This digital access system has the advantage of being more environmentally friendly as you don't have to issue plastic cards to your members. All they need to do is install a free app on their smartphone! However, members' access to your infrastructure may be unduly denied, if they have left their smartphone at home or if the phone's battery is dead. This system is also more complex than a badge reader and therefore more expensive.
Biometric readers
Iris scanners, facial recognition systems or fingerprint readers are other systems that can be integrated into access control equipment. The risk of fraud is of course lower because this user authentication is far more accurate. This state-of-the-art, high-end technology brings added value to your gym, but it comes at a greater price.
Why choose Automatic Systems' SafeFlow integrated solution?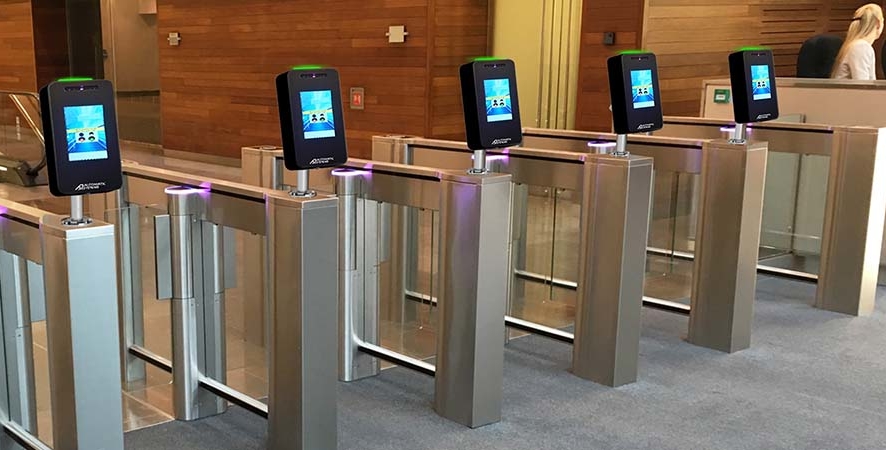 During this health crisis compliance with prevention rules is more important than ever in order to prevent the spread of COVID-19. Automatic Systems is well aware of this and has developed SafeFlow. Firstly, this integrated monitoring solution allows a body temperature reading to be taken and it checks that someone is wearing a face mask. This is all done seamlessly and without personal identification. Secondly, the solution enables the counting and dynamic management of the number of people authorised in your gym: this is done by displaying a countdown on screen.
SafeFlow is compatible with the majority of Automatic Systems' fast security entrance lanes, including FirstLane, and it's pre-integrated into the TriLane TL1 tripod turnstile. You can even integrate the solution into existing equipment through an independent foot.
It's ideal to protect your members and staff!
Conclusion
We sincerely hope this guide has provided you with a clearer picture of the advantages of installing access control equipment in your leisure facility. Our aim was to be as transparent as possible, explaining how each solution has both advantages and disadvantages.
Automatic Systems' experts will be delighted to help you define the best solution for your leisure facility.