SmartLane
The new SMARTLANE speed gate is built on the fundamentals that have made its predecessor so successful over the years. The iconic and easily recognisable style of the SmartLane optical turnstile has been updated to meet the latest architectural trends. The high performance and robustness that are part of the SmartLane's DNA have naturally been retained and improved.
Thanks to DIRAS™ (Automatic Systems Infrared Detection) technology and its predictive algorithms, the SmartLane speed lane offers the best-in-class detection level currently on the market. The lower cells also provide better detection with greater gate reactiveness. The SmartLane turnstile is also the best-in-class for safety, with features including entrapment safety protection via a curtain of cross cells and extra detection on the high glass doors; coupled by low level cells for child and trolley detection.
SmartLane is available in multiple finishes and configurations including "with or without" extensions and "open or closed", allowing the integration of all types of identification systems. Several finish options are available including stainless steel, painted stainless steel, bronze or gold finish, all designed to cater for different architectural design trends.
---
Features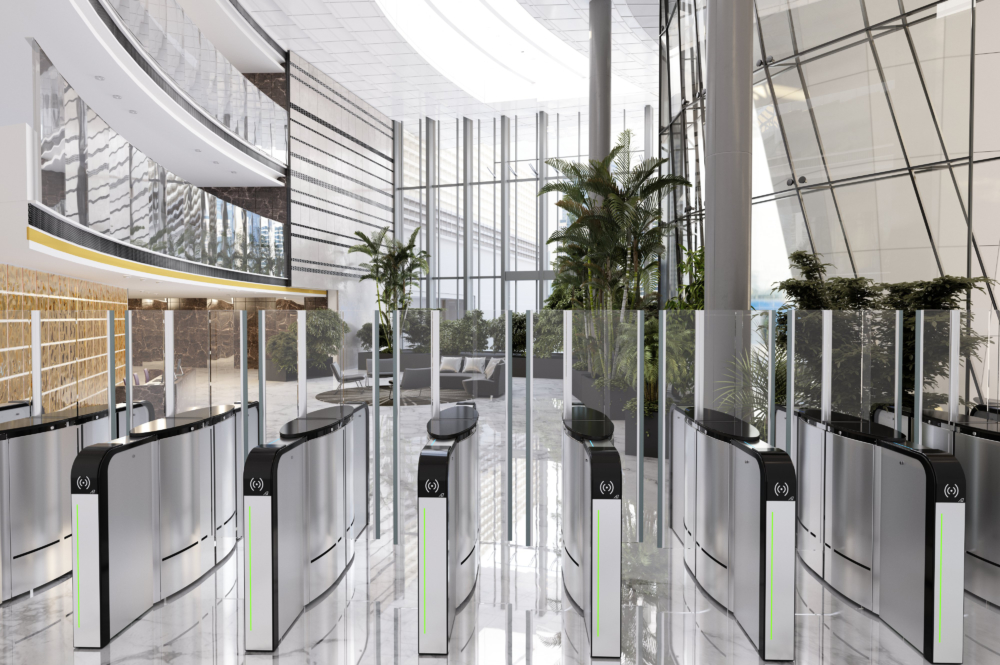 Dynamic Lights for intuitive use and increased throughput.
High throughput up to 60 users/minute, with an opening/closing time min 0.7 sec. Audio alarm to indicate unauthorised use to both the security personnel and the user.
Designed in compliance with the most stringent safety and security standards (EN16005) & CE certified. Limited force applied by obstacles.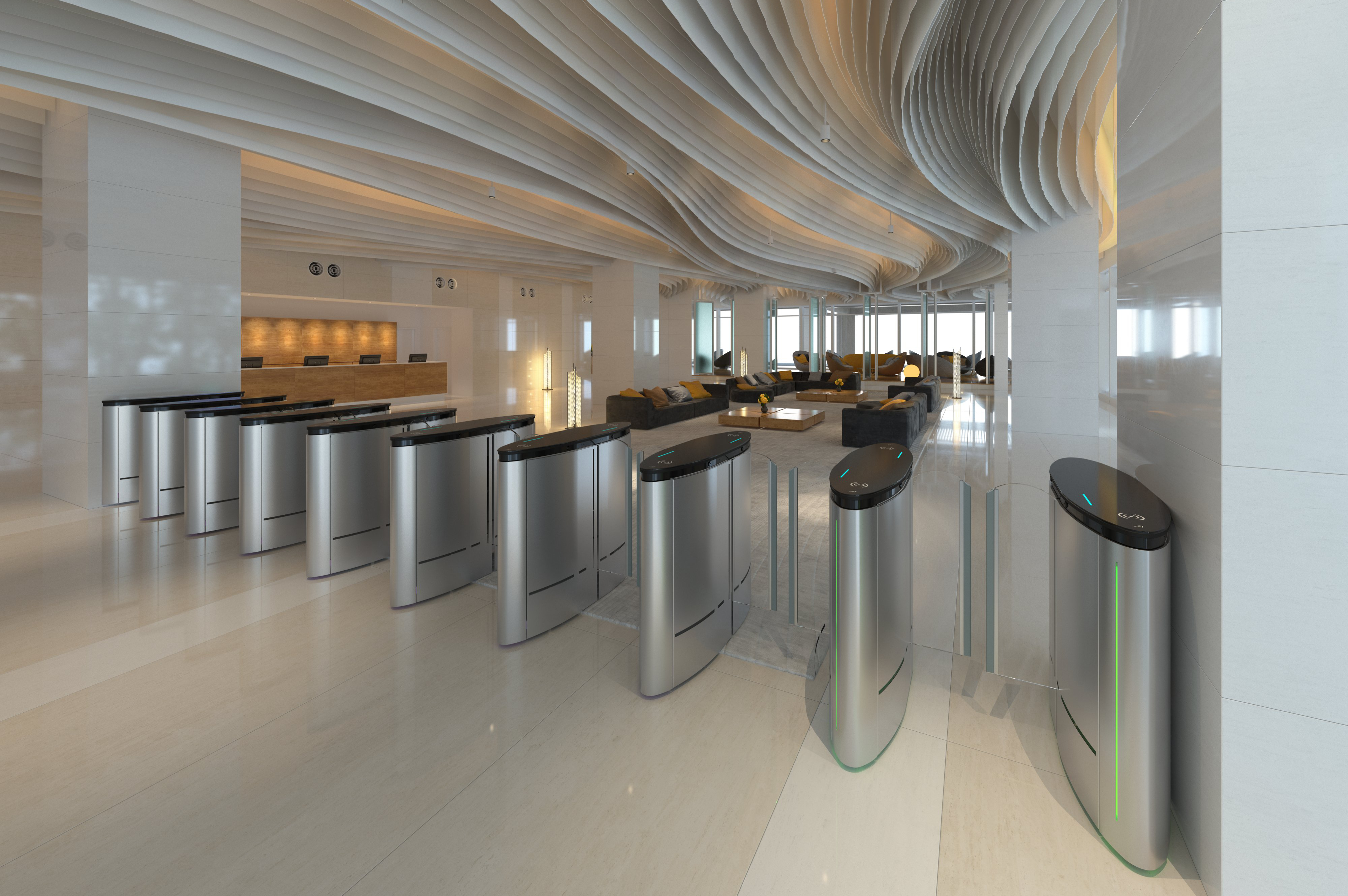 Mechanical failsafe opening (no battery required). Obstacles automatically open to free the passage.
Physical security improved with fast double retractable doors for immediate lane closure. Opening/closing time min 0.7 sec for standard or wide passageway lane.
Best-in-class fraud detection with DIRAS technology.
---
DETECTION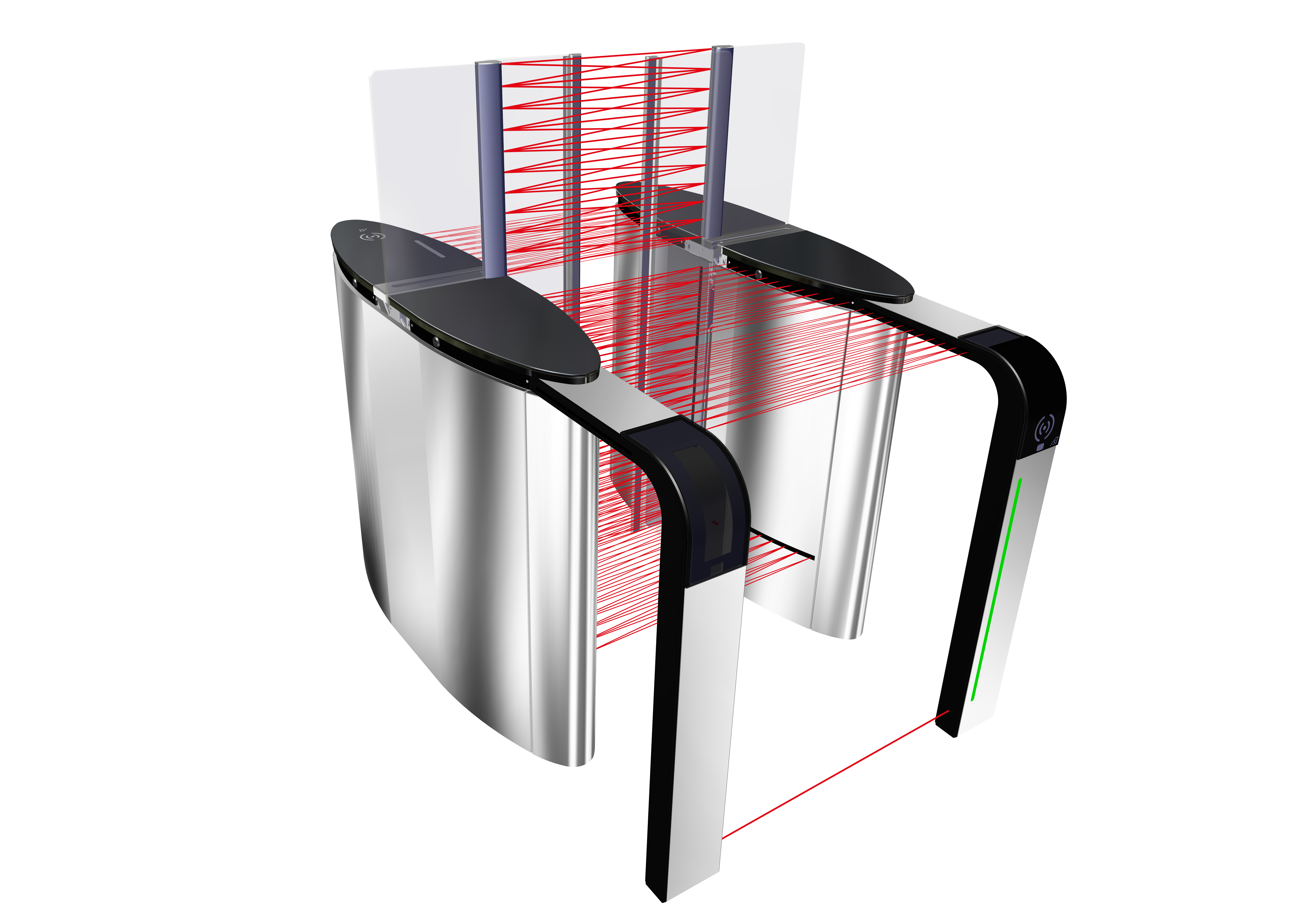 SmartLane speed gate offers best-in-class fraud detection with the evolution from punctual cells to DIRAS V3, and new detection algorithms, composed by straight DIRAS and new curved DIRAS for even improved detection (with a total of 135 direct infrared photo beams)
SmartLane detection is based on infrared cells positioned horizontally (waist-high positioning) and vertically (obstacle positioning)
A combination of elevated computing power and a high-density matrix of IR beams guarantees dynamic and predictive user tracking.
Free opening cell on extension
---
Finishings
SmartLane speed gate is a highly versatile and customisable product designed to meet customer needs, whether these are of a functional or an aesthetic nature. The wide range of materials and finishings available make the SmartLane speed gate suitable for any kind of building, be it ancient or contemporary.
HOUSING FINISHINGS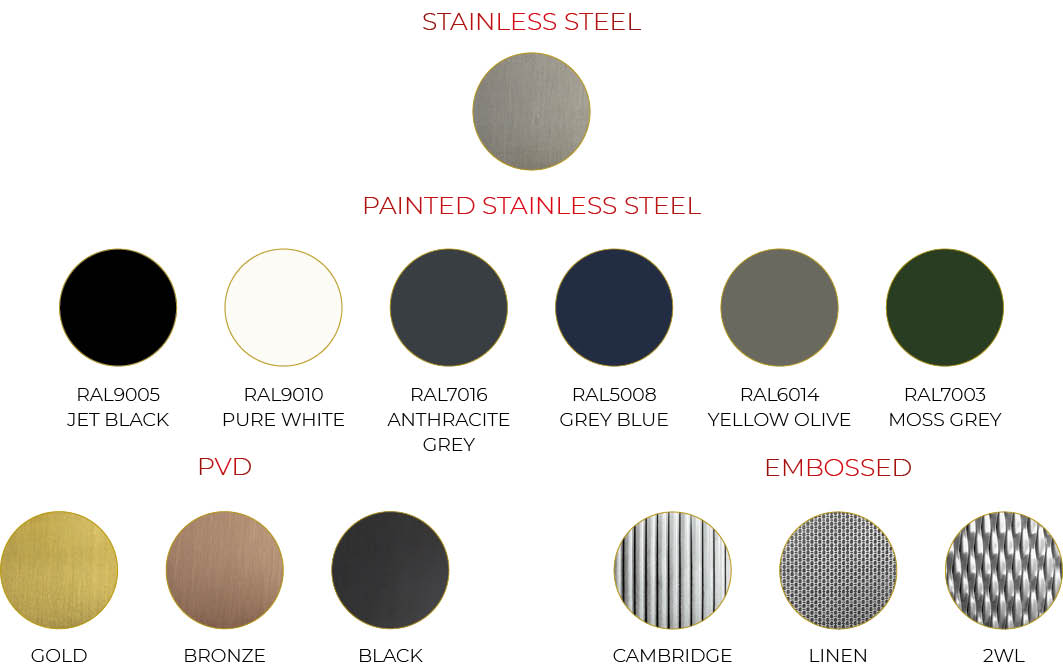 *PVD and embossed options are available end of 2021
1) Glass top cover 2) Black laminated top cover 3) Stainless steel top cover
---
Modularity
SmartLane turnstile is available in multiple configurations, including extension options, open or closed one-way or double. These extensions offer more detection beams for a higher security, and allow larger integration capabilities when closed. SmartLane SL2910 model provides a larger passage width of 900mm for easier access of disabled personsor even maintenance carts. SmartLane speed gate comes with a variety of glass obstacle height options, from 1000mm up to 2000mm, for increased security.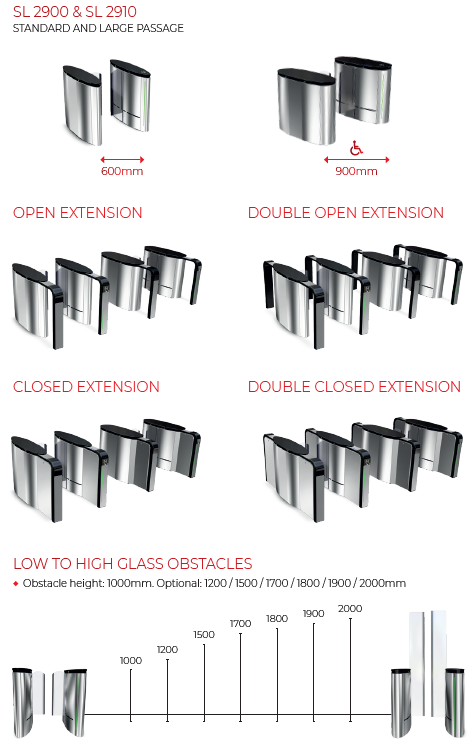 ---
CONNECTIVITY
The AS1190 control board offers powerful computing power for advanced lane management.
Equipped with the powerful ARM9 technology
Based on the open source, reliable and scalable LINUX PC architecture
Featuring complete IP and USB connectivity
Maintenance interface accessible remotely thanks to an embedded web server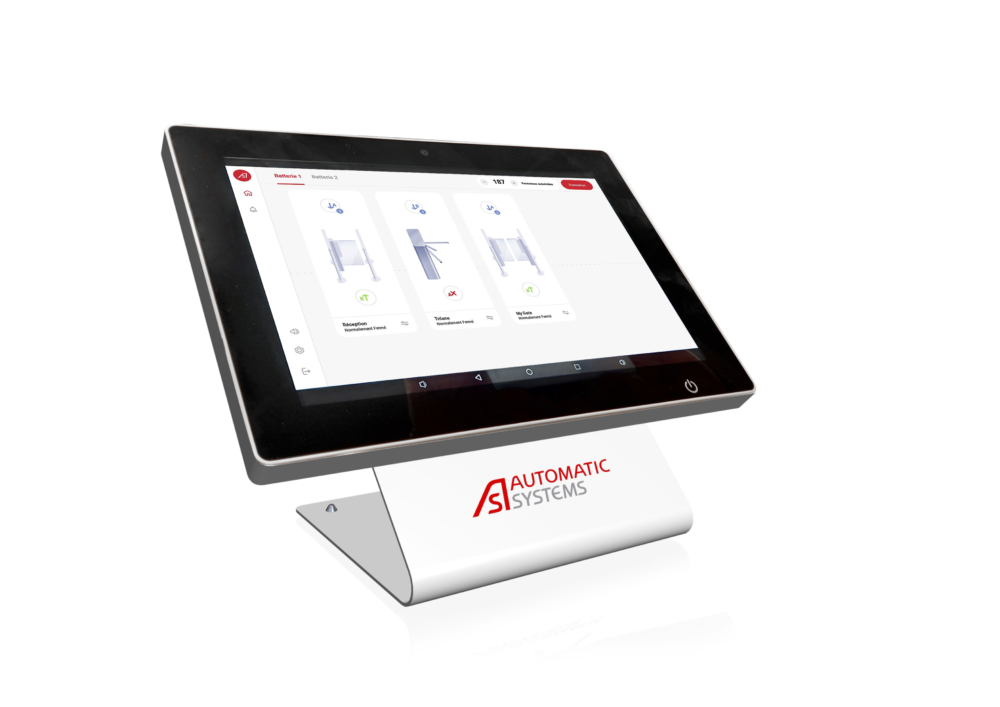 SUPERVISION (OPTIONAL)
Smart&Slim monitoring panel for remote management of the turnstiles. It is a flexible command centre and allows for visualisation, control and consultation.
SmartTouch surveillance interface. Simple handle egant solution for managing one or two access control equipment areas remotely, via an Ethernet network.
SmartTouch allows counting of incoming and outgoing people in a controlled area and thanks to the HDMI output, it is possible to show the occupancy levelof an area on screens
---
APPLICATIONS
Offices
Banks
Public institutions
Data centres
Sensitive sites
Schools and universities
---
LINKS
---